Research Projects
Many of the Amman Center's programs pair Columbia University students and faculty with practitioners throughout the Middle East, working in a variety of sectors, to develop hands-on projects that promote study and expand the range of academic experiences.
In collaboration with Columbia Global Centers | Amman, the Columbia University School of Nursing and the University of Jordan School of Nursing worked on an initiative, Health Status and Reproductive Health among Postpartum Syrian Women Refugees in Jordan: A Needs Assessment. The project, led by Jennifer Dohrn, was dedicated to understand the health needs and reproductive health practices of postpartum Syrian refugees who live outside of refugee camps in host communities across Jordan, for the purpose of providing services responsive to Syrian women in the postpartum period. The assessment was conducted in four areas in Jordan with plans to interview approximately six hundred women, focusing on their general health status and reproductive health knowledge and practices, as well as their attitudes towards breastfeeding, family planning, emotional/mental well-being, and preventions of sexually transmitted infections.  
After the collected data is analyzed, dissemination of the results with the Ministry of Health in Jordan can be used to explore a framework for a community-based participatory approach that includes the voices of refugee women in the development of programs to improve their reproductive health. This initiative was led by Jennifer Dohrn, Assistant Professor of Nursing at the Columbia University Medical Center and Director of the Office of Global Initiative and its WHO Collaborating Center for Advanced Practice Nursing.
The Durable Solutions Platform (DSP), the Program on Forced Migration and Health (PFMH) at Columbia University, and Columbia Global Centers | Amman held a research study entitled, A Medium-Term Approach towards Self-Reliance and Resilience of Syrian Refugees and Host Communities in Jordan. The research, led by Monette Zard, explores the lessons learned and ways forward for Syrian refugees' protracted displacement in Jordan. As current refugee assistance programs are adapting to address medium- and longer-term needs, this report explores how Syrian refugees' self-reliance can be fostered in a manner that promotes resilience and social cohesion with host communities. The report highlights some areas where strategic investments in policy and practice can be made to ensure that refugee access to education, livelihoods, and social assistance can be leveraged to elevate access and better lives for all.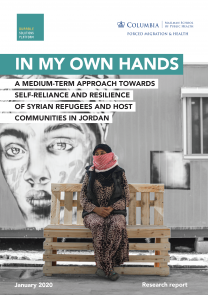 Columbia University, in partnership with Columbia Global Centers | Amman, The University of Jordan, The Institute of Family Health (IFH), and the International Rescue Committee (IRC) took a multidisciplinary approach to respond to the Syrian refugee crisis by conducting a research study that aims to understand the gendered health and mental health concerns of Syrian refugee women living in non-camp urban settings throughout Jordan. The study was spearheaded by Nabila El-Bassel and Neeraj Kaushal, and it involved a cross-sectional survey distributed to 507 Syrian refugee women over 6 months, in which the findings informed intervention and policies to develop comprehensive sexual and reproductive health services, and improve health outcomes for Syrian refugee women in Jordan.
More information here.
The President's Global Innovation Fund (PGIF) awards grants for faculty members to engage and leverage Columbia's network of global centers. The program aims to enable the development of new projects and scholarly collaborations across global centers, in order to increase global opportunities for research, teaching, and service. Projects must engage at least one of Columbia's global centers and may be sited in one of the eight cities in which a global center is based or in other locations in the regions served by a global center. The first round of PGIF grant request proposals was issued in May 2013. These projects play an essential role in realizing the potential of the Columbia Global Centers to create new opportunities for faculty and students, and defining what it means for Columbia to explore new channels of knowledge in the 21st century.
2022 Winners (see a full listing with more information here):
Vasilis Fthenakis
Senior Research Scientist and Adjunct Professor
School of Engineering and Applied Science
Project: "Solar Energy Desalination Analysis Tool-Chile (SEDAT-Chile)"
Global Centers: Santiago, Tunis and Amman
Project Description: The impacts of climate change become apparent and there is a growing interest for desalination technologies powered by solar as desalination requires large amounts of energy and arid areas are typically bestowed with good solar potential. The PIs developed, with a 3-yr grant from the US-DOE, an open-source Solar Energy Desalination Analysis Tool (SEDAT), for techno-economical evaluation of desalination technologies and selection of regions with the highest potential for using solar energy to power desalination plants.
This software will simplify the planning, design, and valuation of solar desalination systems. SEDAT integrates various layers of large volumes of geospatial data with Python- based models of solar energy and desalination technologies. It derives time-series of energy generation and water production, with details of plant performance and suggestions for improving the solar- desalination coupling. The current SEDAT version incorporates multiple US-specific infrastructure databases; we propose to develop a Chile-specific version in collaboration with colleagues in the Universities of Chile(UC), University of Antofagasta (UA) and Catholic University Chile (CUC). This custom-made version of SEDAT-Chile will incorporate multiple layers of data which were available for the US but not for Chile; these include solar resources and other weather data, power plants, brackish water wells, water conveyance networks, and current and projected industrial and residential water demands. We also incorporate models of solar electricity and heat cogeneration and coupling of solar desalination and electrolytic generation of hydrogen as requested by our collaborators in Chile.
The potential of the SEDAT- Chile and project results will be disseminated with publications and presentations in Chile organized by the Global Center in Santiago. Given the global need for clean energy and water, we believe that other Columbia Global Centers will be also interested in learning about this work.
REACH is a regional initiative of Columbia University, which aims to bridge the gap in health literacy and health care access among refugee youth in Turkey, Lebanon, and Jordan, which are the countries affected the most by the Syrian conflict. Supported by the TaiwanICDF, Blue Chip Foundation, and Columbia University, the REACH Project uses a community-based participatory action research (CBPAR) approach and aims to assess the impact of information and communication technologies on accessing health information and services among refugee youth. With a strong adult-youth partnership, the project includes stakeholder meetings, mixed-methods studies with refugee and local youth, qualitative interviews with health service providers and policy makers, in addition to communication and dissemination activities such as organization of exhibitions, panels, and production of policy briefs and scientific publications. REACH has been working with refugee and local youth, software developers, academia, health professionals, and NGOs to develop a trilingual mHealth application to promote young refugees' and vulnerable youth's health via digital technologies.
The project started in Istanbul in 2019 and organized public engagements, lectures and stakeholder meetings since. It then expanded its network with a stakeholder meeting in Amman in June 2021, which brought together researchers from Columbia University with counterparts from universities in Jordan, Lebanon and Turkey. This meeting was among many steps in sharing knowledge and building an international research network to collaboratively work on the use of digital technologies to prevent diseases and to promote health by improving young people's health literacy and access to health care in forced migration settings. Stakeholders discussed current problems and solutions regarding health literacy and health care access issues among refugee and local youth in Jordan. The project team then conducted a qualitative study with refugee and local youth, refugee health workers, and health policy makers in Jordan to assess the current trends and gender-specific needs for digital health tools to access reliable health information and available health services in Jordan. The study was conducted in partnership with the German Jordanian University.
The Amman Center held a virtual high-level expert stakeholders regional meeting on May 18, 2022, led by Yanis Ben Amor, Assistant Professor of Global Health and Microbiological Sciences at the Columbia University Medical Center and Executive Director of the Center for Sustainable Development at the Earth Institute, and Ozge Karadag, Senior Staff Associate at the Center for Sustainable Development and the co-PI of the REACH project.
The event included a panel of experts and professionals working on migrants' health, and young people who discussed the findings of a regional mixed-methods field study in Jordan, Lebanon, and Turkey that focused on the use of digital health technologies to increase local and refugee youth's access to health information and services. This was followed by a panel on the REACH4Health App, and a photography exhibition. Through the panel discussion, participants raised awareness on using digital health technologies for health promotion among relevant stakeholders. The international project team worked to compare findings from the three host countries, taking into consideration social determinants of health and existing health services for forced migrants. Following the dissemination event, a training workshop was held to increase the research capacity of postgraduate public health students and early career public health researchers on qualitative and mixed-methods research with migrants and refugees.
November 16, 2022
Global Clinical Placement Program Reopens after Two-Year Hiatus
Read the full article here.
April 04, 2022
Six DNP Acute Care students participated in the Global Student Experience at the University of Jordan and completed their global nursing practicum.
March 08, 2022
This three-day program offers an opportunity to share and receive critical feedback on research manuscripts and network with colleagues.
Related Events
Event time is displayed in your time zone.
There are no events to show with the selected date.
There are no events to show.
See current events