Rapid change and uncertainty have become an increasing feature of global realities. What does the future look like for the world's young people who will inherit the burdens of global climate change, political polarizations, and wide-spread economic and health disparity as well as the promises and dilemmas of digital technologies and global interconnectedness?
The Middle East and North Africa is one of the most youthful regions in the world, with a median age of 22 years. With nearly 60% of the population in many countries under 25 years old, the nature of the region must rapidly develop to meet the demands countries will face in coming decades. The MENA region's youth have the potential to become agents of change and contribute to a more prosperous and stable future for themselves and their communities. Unleashing this potential, however, requires a robust investment in the creation of meaningful learning and engagement opportunities.
Columbia Global Centers | Amman runs a number of initiatives that aim to promote and advance youth leadership development in Jordan and the wider region. Through talks and interactive workshops, participants learn how to turn their personal interests and hobbies into careers or businesses, develop specific skills, and inspire, influence, and motivate others to encourage effective leadership. With the support of a number of Columbia schools and campus partners, the Amman Center has been able to generate successful education and entrepreneurial activities in various parts of the region.
Fostering Entrepreneurship in Engineering Education in Tunisia
This project aimed to strengthen the cultureof entrepreneurship in engineering education in Tunisia by introducing critical elements of an entrepreneurship curriculum and training faculty to become entrepreneurship educators and coaches to increase opportunities for student learning. It was recognized as one of the more successful university partnership projects for its efforts in strengthening collaboration between public and private higher education institutions, and for the establishment of partnerships between public engineering schools and the start-up and business community.
As a result, the initiative was scaled up to include the participation of 100 universities from across Tunisia, in addition to being expanded to Morocco and potentially elsewhere in the region. The program has helped foster a collaborative ecosystem to support entrepreneurial activities in the Tunisian context by increasing the number of certified coaches and embedding the ideation process in local universities. Primarily, the program supported interdisciplinary founding teams comprised of Tunisian students through two stages of a national open start-up competition in Tunisia and prepared them to compete in the technology track of the Columbia Venture Competition. These students were connected to a global network of entrepreneurs from Columbia University and in New York. Overall, the program trained nearly 300 students.
The project is organized in partnership with Columbia University's School of Engineering and Applied Science, Columbia Business School, Open Start- up Tunisia, and Columbia Global Centers | Tunis, and was funded by a grant from the U.S. Embassy in Tunis.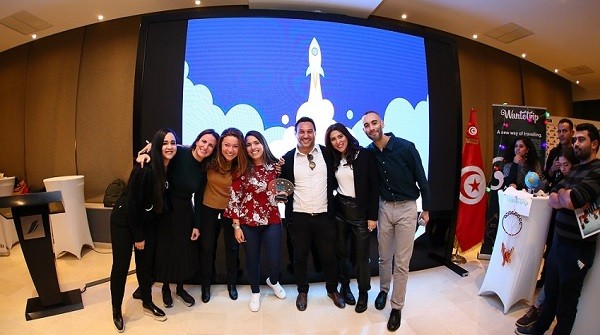 Social Entrepreneurship Workshop for High School Students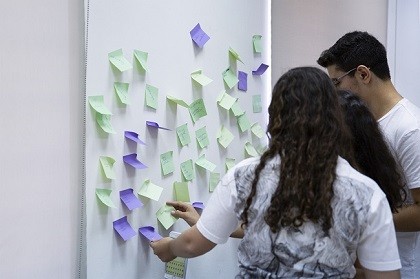 A five-day workshop on social entrepreneurship is held each summer at the Amman Center in partnership with Building Blocks, a student-run
organization working to inspire, educate, and launch the next generation of student entrepreneurs. The workshop aims to give high school students the opportunity to examine themes of gender equality, entrepreneurship, innovation, leadership, design thinking, and sustainable development.
Participants learn about how entrepreneurship is changing the world and get the chance to engage with successful entrepreneurs who share their lessons as master innovators. Working in teams, students collectively design ventures and present them at the conclusion of the program. The third and fourth iterations of this program, in Summer 2020 and 2021, have been adapted to an online format.
The workshop is part of the Center's Soraya Salti Youth for Youth Series inspired by the legacy of the late Soraya Salti, former President and CEO for Middle East and North Africa at INJAZ Al-Arab.
---
Youth in a Changing World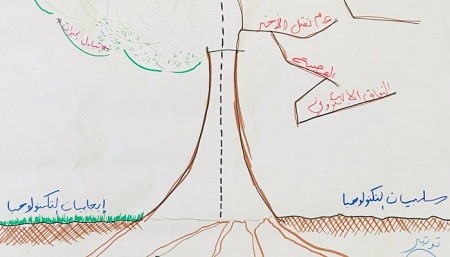 Youth in a Changing World is an initiative to identify current global issues of greatest concern to youth involving a series of global workshops where they discuss among themselves how their future aspirations are affecting and being affected by a rapidly changing world. The initiative is spearheaded by Vishaka Desai, Chair of the Committee on Global Thought and Senior Advisor for Global Affairs to the President of Columbia University, and works through the network of Columbia Global Centers around the world, and with local universities and youth organizations. In Jordan, local partners included The School of Graduate Studies at Jordan University and the Princess Basma Youth Resource Center.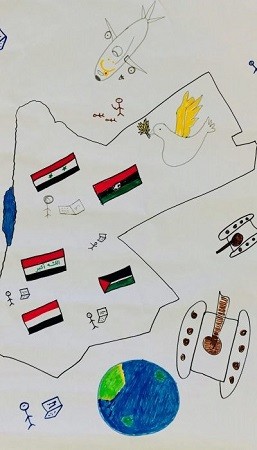 These workshops include focus group discussions, where local youth facilitators moderate conversations with their peers around thematic open-ended questions. Each peer-led focus group ends with a collective drawing exercise, in which they create an image around their conversation. Collective drawings offer participants freedom to play with artistic expression to shape and convey their own narratives and understandings.
Conversations held so far have revealed that young people everywhere acutely feel the need for a platform to express themselves and have themselves heard and that they are able to think simultaneously in personal, local, and global terms.