Columbia Global Centers | Istanbul aims to develop its research initiatives in collaboration with Columbia faculty and students as well as with local project partners under four main subject areas: 
human rights, policy and freedoms, 
humanities, history, cultural heritage and art, 
sustainable development, urbanization and public health and 
women and gender studies. 
The Center works for capacity building so as to allow scholars and practitioners in the region to actively contribute to our research programs and engage with Columbia faculty.
Human Rights, Policy and Freedom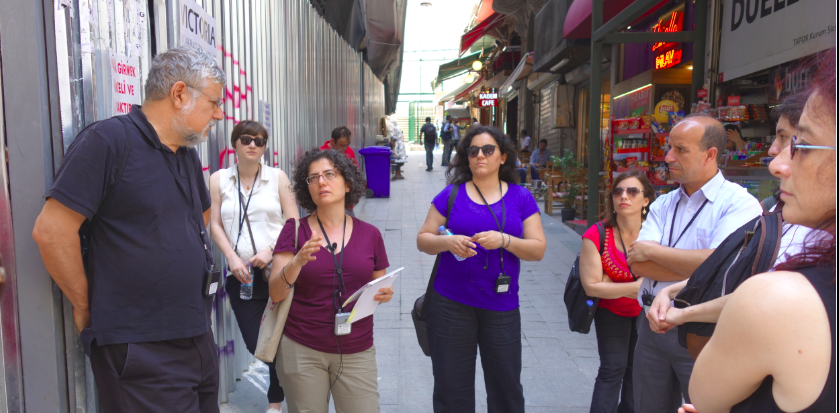 Through one of its flagship projects, the Istanbul Center has been extending the programs of Columbia University's Institute for the Study of Human Rights (ISHR) to Turkey and the wider region in order to support the cross-fertilization of knowledge and practices related to the struggle for peace and reconciliation.
It does this through widening the scope of the Alliance for Historical Dialogue and Accountability (AHDA), a program of the ISHR to the region. AHDA brings together academics, representatives of civil society organization, journalists, educators and artists as well as policy makers who all pursue historical dialogue in conflict, post-conflict and post-dictatorial societies. They address the political ramifications of the historical legacy of conflicts, as well as the role and impact of the memory of past violence on contemporary politics, society and culture.
Columbia Global Centers | Istanbul has been working with Professor Elazar Barkan, Director of the Institute for the Study of Human Rights, and the Alliance for Historical Dialogue and Accountability as well as the Truth, Justice and Memory Studies Center (Hafiza Merkezi), a prominent human rights organization in Turkey, to extend the understanding and practice of historical dialogue in the region.
Founded in 2013, the Regional Network for Historical Dialogue and Dealing with the Past (RNHDP) aims to contribute to historical dialogue and reconciliation efforts in the Caucasus and in the Middle East. It is modeled after the Alliance for Historical Dialogue and Accountability to enable regional cooperation between academia and civil society and facilitate the exchange of case studies, methodology and practices of historical memory, dialogue and accountability.
The network events are open to NGOs and scholars in the relevant countries whose work focus on historical dialogue, accountability, reconciliation, peace, human rights, conflict resolution and transitional justice. To date, the network's events have drawn the participation of 31 organizations who work at the forefront of their fields in Algeria, Armenia, Azerbaijan, Cyprus, Georgia, Israel, Lebanon, Palestine, Tunisia and Turkey.
RNHDP have been engaged in a number of activities that approach the issues related to conflict, historical dialogue and memory politics from interdisciplinary perspectives.
The first of these activities was the "Launch Conference of the Regional Network for Historical Dialogue and Accountability" that was held on October 25-27, 2013 at Columbia Global Centers | Istanbul with the participation of Professor Elazar Barkan as well as founding members of the network: from Turkey (Hrant Dink Foundation, History Foundation, Helsinki Citizens Assembly, Diyarbakır Political and Social Studies Association), Cyprus (Association for Historical Dialogue and Research, Peace Research Institute of Oslo Cyprus Center), Israel (Zochrot), Palestine (Wasatia, Parents Circle Families Forum), Armenia (Caucasus Institute) and Lebanon (UMAM Documentation and Research Center, Support of Lebanese in Detention and Exile). Themes covered in the workshop included peace, conflict resolution, reconciliation, historical dialogue, transitional justice and accountability, documentation, memorialization, education, dialogue, judicial processes and traditional/official narratives of the past.
In April 2014, a workshop on "Contested Sites and Historical Dialogue" was held for university students based in Istanbul. The interactive workshop was led by Professor Elazar Barkan and Liz Sevcenko of the International Coalition of Sites of Conscience, focusing on the connections between space and memory. The workshop was part of a month-long project bringing together a number of interrelated efforts: the Guantánamo Public Memory Project exhibition; the Open Memory Library featuring material on contested city histories from Istanbul, Beijing, Mumbai, New York and Rio de Janeiro; a Hafıza Merkezi lecture series on the Hidden Pasts of Cities in Turkey; and the Closed Book, a research publication documenting the status of prisons in Turkey.
In January 2015, a workshop was held on "Truth Telling and Encounters: Dynamics in Sites of Dialogue." This first thematic workshop of the Regional Network for Historical Dialogue and Dealing with the Past focused on three interrelated themes; (i) truth telling, (ii) constructing the truth, encounters, and (iii) the new media-scape.
In June 2015, the center launched the Regional Network in Historical Dialogue Summer Training Program, a one-week summer school for civil society professionals and graduate students organized in collaboration with Truth Justice Memory Center and Boğaziçi University in Istanbul. The goal of the training program is to equip participants with a grounding in the tools and concepts of historical dialogue and dealing with the past and invite them to develop an approach to the conflicts they work with through the perspective of historical dialogue. The training program was composed of seminars and workshops conducted by international experts on the following topics:
• Historical Dialogue: Truth, Narrative, Evidence
• Transitional Justice
• Truth Commissions
• Shared Narratives
• Designing Museums, Memorials, and Exhibits
• Oral History, Truth Seeking and Gender
• Historical Commissions
• Comparative Issues for Civil Societies in MENA and Caucasus Region
The program received over 130 applications for 14 spaces, which were fully funded through grants offered by donors to the program. Participants in the 2015 summer program came from the following countries: Algeria, Armenia, Georgia, Iran, USA, Israel, Jordan, Lebanon, Palestine, Tunisia and Turkey.
The 2014-2015 RNHDP activities were supported by Friedrich-Ebert Stiftung Turkey, Open Society Foundation Turkey, Chrest Foundation, Robert Bosch Stiftung, Oak Foundation, Charles Stewart Mott Foundation and the Boğaziçi University Peace Education Application and Research Center.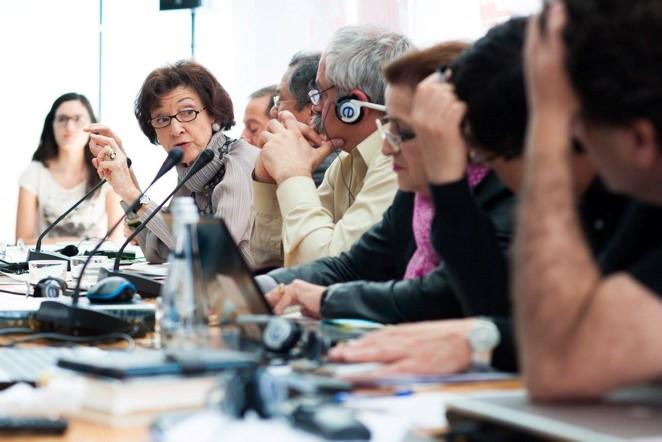 The Politics of Memory in Global Context is a Franco-American collaborative project that brings together scholars in the social sciences and humanities who work on collective or public memory; cognitive scientists, psychologists, and neuroscientists who work on individual memory; and curators of historical and memorial museums who present the past to the public. The project combines diverse disciplinary approaches and insists on considering its topics comparatively in global context in order to discern commonalities among them, develop new analytic perspectives on the formation and operation of public memory, and suggest policies for better political management of divisive memories within and between countries. The workshops aim to create an interdisciplinary context for researchers of memory, while public lectures bring the wider community into the discussion as described in the project website: http://cgt.columbia.edu/research/memory/.
On April 16-17, 2015, together with Carol Gluck, George Sansom Professor of History and Rashid Khalidi, Edward Said Professor of Modern Arab Studies at Columbia, the Istanbul and Amman Centers designed a series of inter-linked workshops in both cities under the heading of "Time and Trauma: Transgenerational Memories of Mass Suffering," which featured an interdisciplinary group of scholars and artists from Asia, Turkey and the Middle East. Taking place at Boğaziçi University campus in Istanbul and at Studio-X Istanbul, the panel and workshop brought together scholars in the social sciences and humanities, neuroscientists and psychologists, and curators of historical and memorial museums to explore the relation between individual and collective remembering and the politics of national and transnational memory in the world today.
As a priority area for Columbia University, journalism, press freedom and freedom of expression have been the focus of several programs at the Istanbul Center. Columbia Global Centers | Istanbul and the Columbia Global Centers | Amman co-convened the "Workshop on Geopolitical Developments and Press Freedoms in the Middle East and Turkey" in September 2013, which featured President Lee C. Bollinger, Professor Safwan M. Masri, Dean Steve Coll, former Dean Nicholas Lemann of the Columbia Journalism School and several distinguished global and regional experts on Turkey and the Middle East. In 2014, the Istanbul Center organized a training program for 24 students of media and journalism from the region and the United States on the theme of freedom of expression, with lectures given by Professor Anya Schiffrin, Director of the International Media, Advocacy and Communications specialization at Columbia University's School of International Affairs, and by experts from Pro-Publica.
The Center also works together with Professor Susan E. McGregor, Assistant Professor at Columbia Journalism School and Assistant Director of the Tow Center for Digital Media, on a project supported by the President's Global Innovation Fund which entails conducting research on experiences of working journalists in Turkey as well as holding a series of workshops and trainings for journalists and citizen media practitioners that will take place in 2016.
Humanities, History, Cultural Heritage and Art
The Istanbul Center actively works towards developing a global humanities program in collaboration with Columbia and its regional partners. In October 2015, the Center organized a roundtable meeting at Boğaziçi University with Sharon Marcus, Orlando Harriman Professor of English and Comparative Literature and the Dean of Humanities at Columbia to discuss future prospects for designing an interdisciplinary global humanities curriculum to be executed with regularized faculty visits and student exchange programs between campuses.
During her visit, Professor Marcus also met with several distinguished scholars, publishers and editors and participated in a public panel, "Theater, Performance and Celebrity: An Archive of Extravagance." Together with other colleagues, she examined how theater and performance contribute to the development of modern celebrity and how celebrity revitalizes theater and performance.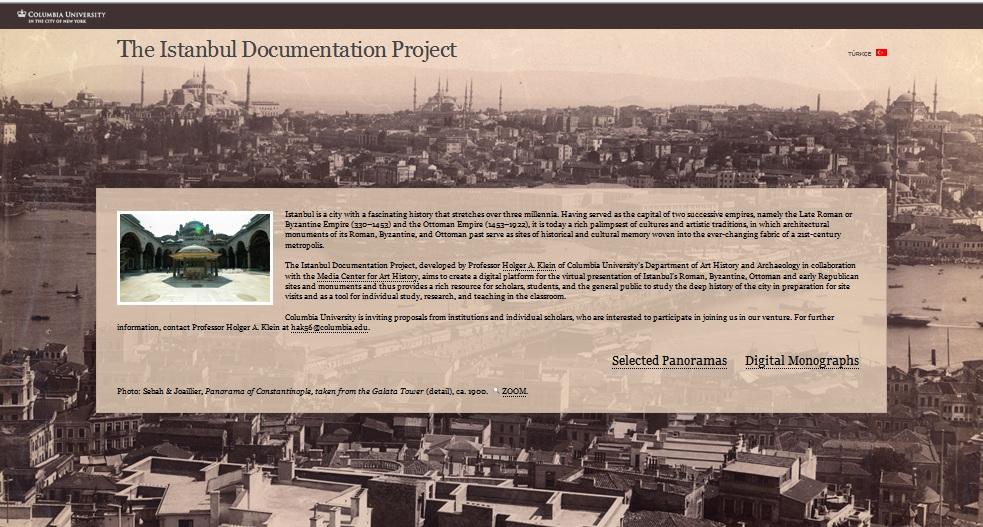 The Istanbul Research and Documentation Project was conceptualized and founded by Professor Holger A. Klein, Department of Art History and Archaeology at Columbia University in November 2011 as a collaborative research initiative. The goal of the project is to create a digital platform for the virtual presentation of Istanbul's Roman, Byzantine, Ottoman and early Republican sites and monuments. As part of the project, Professor Klein has been teaching a summer course at Boğaziçi University since 2013. The Istanbul Research Institute and the Archaeological Museum are key partners in this endeavor. This project is supported by the President's Global Innovation Fund.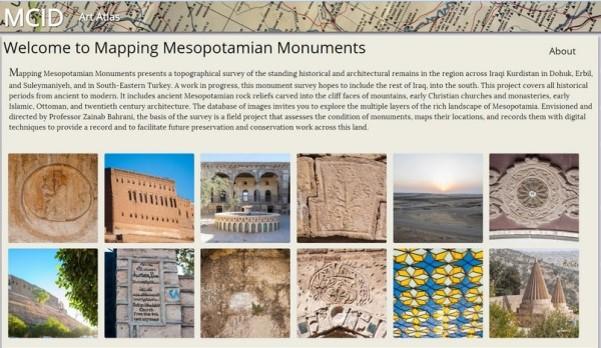 Mapping Mesopotamian Monuments, a project led by Zainab Bahrani, Edith Porada Professor of Art History and Archaeology at the Department of Art History and Archaeology in the College of Arts and Science was awarded a President's Global Innovation Fund grant in 2013.
Along with conducting fieldwork in Turkey, Professor Bahrani regular engages with specialist communities and the wider public to raise awareness about the importance of safeguarding the region's cultural heritage. On June 4, 2015 she spoke at Artuklu University in Mardin on "The Discourse of Artifacts and Things" together with Professor Marc van de Mieroop of Columbia's Department of History. On June 9, 2015, the Istanbul Center partnered with the Association to Protect Cultural Heritage in hosting a lecture by Professor Bahrani on "Mapping the Cultural Heritage in Iraq, Syria and Turkey."
In October 2015, the Istanbul Center partnered with the Metropolitan Museum of Art and the Koç University Research Center for Anatolian Civilizations to support Professor Bahrani's efforts to convene leading specialists from Turkey, Syria and Iraq for a workshop on "The Future of the Past: Addressing the Cultural Heritage Crisis in Iraq and Syria." The workshop began with a keynote lecture given by Professor Zainab Bahrani at Studio-X Istanbul on, "The Absent Past: Heritage Destruction and Historical Erasure Today," during which she discussed the current destruction of heritage in Iraq and Syria.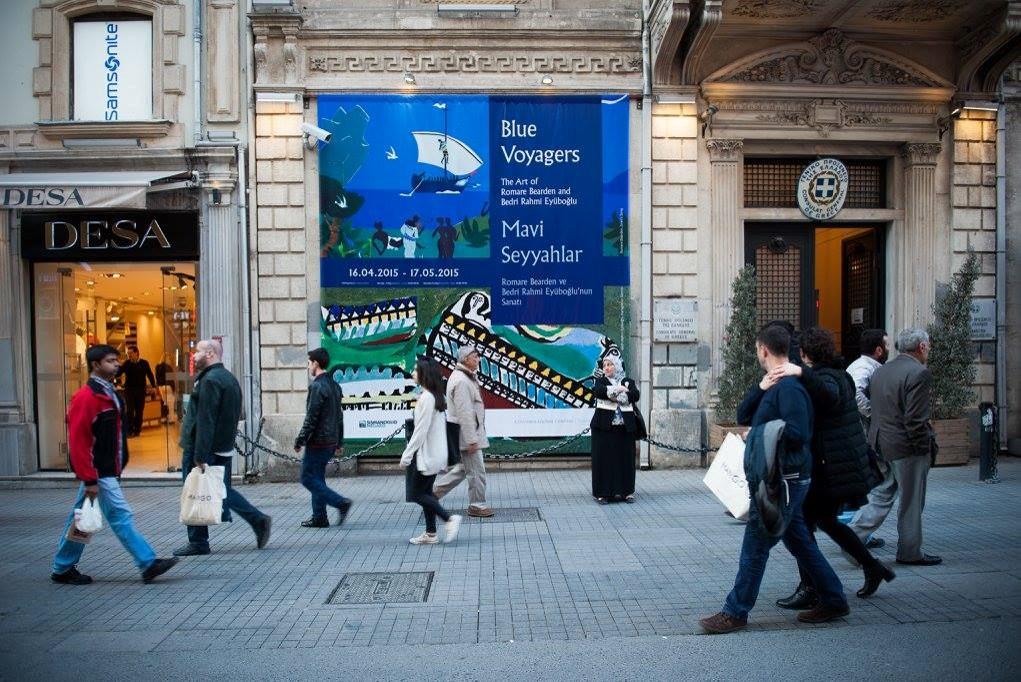 Columbia Global Centers | Istanbul and the Consulate General of Greece in Istanbul hosted the "Blue Voyagers: The Art of Romare Bearden and Bedri Rahmi Eyüboğlu" exhibition from April 15 to May 17, 2015. This exhibition was co-curated by Robert O'Meally, Zora Neale Hurston Professor of English and Comparative Literature and Merve İspahani, Doctoral Candidate in History at Columbia University and Research Associate at the Istanbul Center, and represented the final leg of a global voyage of the works of African American artist Romare Bearden's iconic series of works based on Homer's "The Odyssey." The exhibit was part of a year-long series of programs, lectures and performances inspired by Bearden's interpretation of Homer's classic, a staple of Columbia's undergraduate Core Curriculum.
Along with works from Romare Bearden's "A Black Oddyssey," the exhibition in Istanbul featured works by the Turkish modernist Bedri Rahmi Eyüboğlu, who, like Bearden was instrumental in blending modern Western aesthetics with Anatolian themes. Focusing on journey as a central theme in their works, both Bearden and Eyüboğlu envisioned a "global odyssey" as a search for a new home that used the legacies of the ancient Greek civilization as a common point of reference.
Held in conjunction with the exhibition "Blue Voyagers," a panel discussion on "Inviting the Other in - Translation Adaptation and Improvisation" explored connections between the two featured modern artists, Romare Bearden (American) and Bedri Rahmi Eyuboğlu (Turkish) and the issues of translation their work raises.
The exhibition concluded with a concert featuring Standard à la Turc, using different Turkish traditions, old and new – folk songs, art songs, pop and rock – reinterpreted and updated with a jazz approach, while respecting the place and meaning of each piece.
Leaders from cultural institutions, curators, practitioners and scholars explored factors influencing the arts and culture field in Istanbul, covering cultural policies, dynamics around public and private engagement in the arts, new forms of participation and issues around impact measurement in a "Global Think-In: Arts and Culture in Istanbul" led by Vishakha Desai, Senior Advisor for Global Affairs; Senior Research Scholar in Global Studies and Adjunct Professor of International and Public Affairs. After New York, Mumbai, and Rio, Istanbul is the fourth city to host the program, supported by the Ford Foundation and the Committee on Global Thought.
"De-Provincializing Soft Power: A Global-Historical Approach" is a three-year research project designed to study the power of cultural persuasion in foreign relations in ways that look beyond the Transatlantic and Western framework in which studies of "soft power" originated in the early 1990s. Led by Victoria De Grazia, Moore Collegiate Professor of History at Columbia, the project introduces the cases of three emerging powers, Brazil, China, and Turkey that have developed soft-power agendas in rivalry with the U.S., Europe, and with each other.
Columbia Global Centers | Istanbul, in collaboration with the European Institute at Columbia University, organized an interdisciplinary academic workshop titled "De-Provincializing Soft Power: Perspectives from Turkey" on June 11-12, 2015. The workshop brought together scholars and graduate students who examined Turkey's use of cultural persuasion in its recent history of international relations. This project is supported by the President's Global Innovation Fund.
Sustainable Development, Urbanization and Public Health
REACH is a regional initiative of Columbia University, which aims to bridge the gap in health literacy and health care access among refugee and local youth living in urban settings via digital health technologies. Supported by the International Cooperation and Development Fund of Taiwan (TaiwanICDF), Blue Chip Foundation, and Columbia University, the REACH Project in Turkey, Lebanon, and Jordan is implemented with the collaboration of Center for Sustainable Development of Columbia University, Columbia Global Centers | Istanbul and Amman, Istanbul University, American University of Beirut, German Jordanian University, Bir İZ Association, Community Volunteers Foundation (TOG), Youth Approaches to Health Association (SGYD) and Digital Opportunity Trust-Lebanon. With a strong adult-youth partnership, the project includes stakeholder meetings, mixed methods studies with urban youth, qualitative interviews with health service providers and health policy makers, in addition to communication and dissemination activities such as organization of exhibitions, panels, and production of policy briefs and scientific publications. REACH has been working with refugee and local youth, software developers, academia, health professionals, and NGOs to develop a trilingual mHealth application to promote young people's and vulnerable populations` health via digital technologies. REACH ultimately aims to increase health literacy and improve health care access among young people, through working with stakeholders to disseminate the app more broadly in the region, assess its effectiveness, and contribute to the limited evidence base on using health technologies for youth health promotion in forced migration settings.
For more information, click here.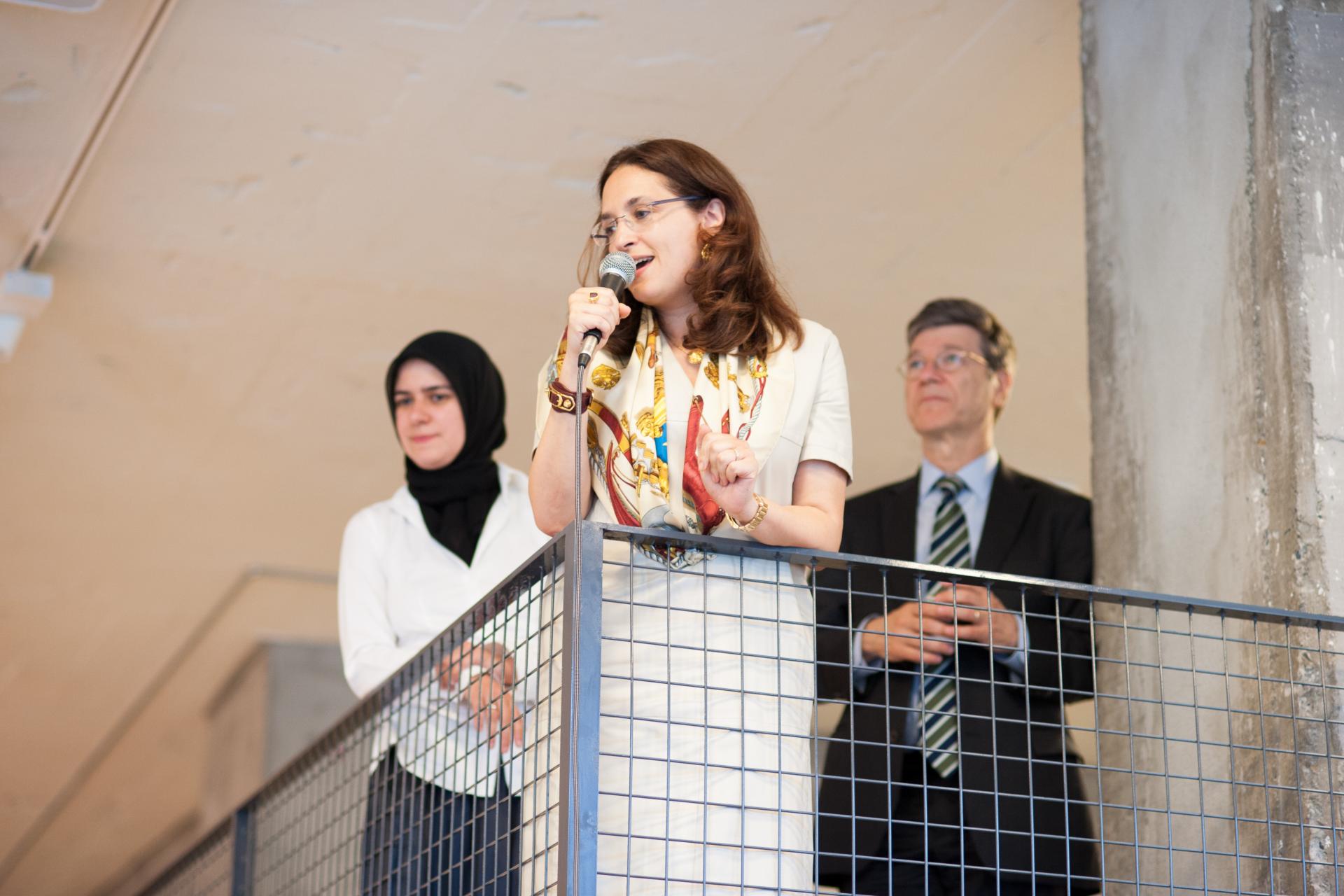 Sustainable development has been a priority for the Istanbul Center, through a collaboration which began in 2013 with Professor Jeffrey D. Sachs, Director of The Earth Institute, Quetelet Professor of Sustainable Development, and Professor of Health Policy and Management at Columbia University. He is also Director of the United Nations Sustainable Development Solutions Network, launched by UN Secretary-General Ban Ki-moon in 2012 to mobilize global scientific and technological expertise to promote practical problem solving for sustainable development, including the design and implementation of the Sustainable Development Goals (SDGs).
The Istanbul Center helped to coordinate efforts to set up the Turkey chapter of the United Nations Sustainable Development Solutions Network, which brings together universities, the private sector, civil society and government to advance the sustainable development agenda in Turkey. The university-led network is hosted by Boğaziçi University and was launched with a conference in June 2014.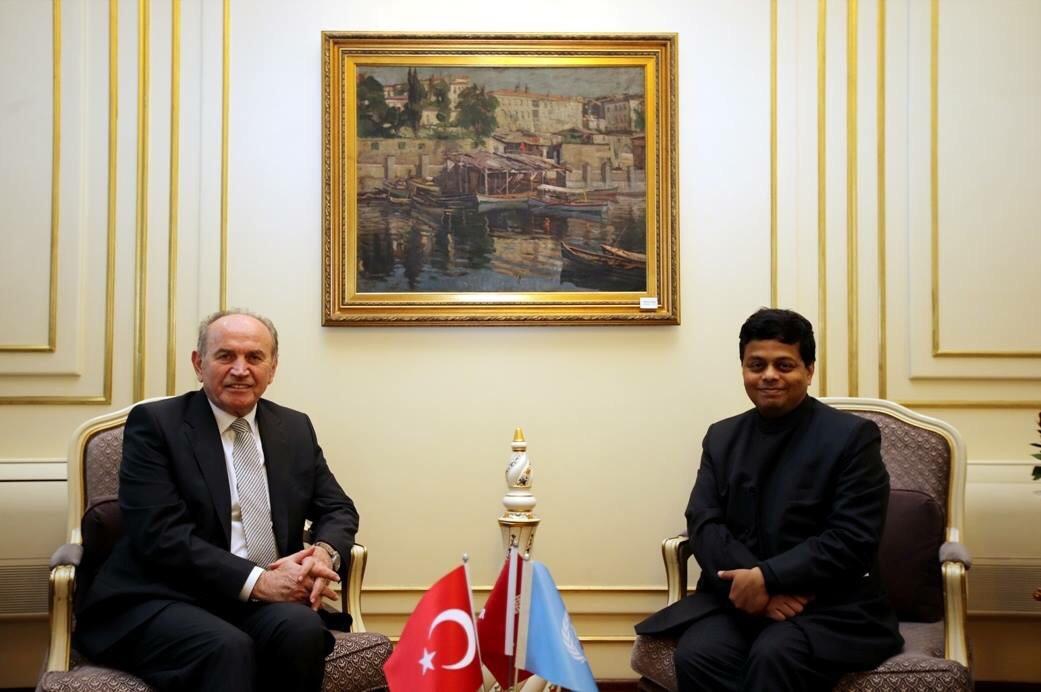 The Center's efforts have been focused on the topic of sustainable urbanization, a core challenge that confronts Istanbul as well as cities across the country and the wider region. Through a number of roundtables hosted by the Center, global and local experts on urbanization have been coming together to reflect on challenges and opportunities to further sustainability at the city level, particularly in light of the new global framework put forward by the Sustainable Development Goals (SDG), which were adopted in September 2015.
In February 2015, the Istanbul Center hosted Aromar Revi, the Co-Chair of the UNSDSN Leadership Council and its Thematic Group on Sustainable Cities, and the Director of the Indian Institute for Human Settlements. He met Mayor Kadir Topbaş of the Istanbul Metropolitan Municipality and visited the municipality of Sarıyer District, meeting with Mayor Şükrü Genç and other local government representatives. The Istanbul Center also held a roundtable discussion led by Aromar Revi on "Sustainable Cities: Inclusive, Resilient, and Connected | The Role of Sustainable Cities as Drivers of Global Transformation," which gathered 35 experts on urban issues, including leading scholars, municipal officials, architects and urban activists. He also gave public lecture on, "Can urban geographies create new histories?"
In November 2015, Aromar Revi returned to Istanbul, and met with urban experts at the Istanbul Center for another roundtable discussion on, "Prospects for Implementing the Sustainable Development Goals: The Urban SDG and Implications for Istanbul." Boğaziçi University held a high-level conference with the SDSN20, examining the relevance of the Sustainable Development Goals for industrialized countries ahead of the G20 meetings in Turkey.
Stephen Karam, Lead Urban Economist and Sustainable Development Group Program Leader at the World Bank, presented the "Turkey Urbanization Review" at a roundtable organized by the Center in November 2015.
Programs with the Mailman School of Public Health were initiated following an extensive visit of Dean Linda Fried and several public health scholars from Mailman in October 2013. Through this visit, a President's Global Innovation Fund project on "Confronting Non-Communicable Diseases in the Middle East and Turkey," was developed by Professor Wafaa El-Sadr, Professor of Epidemiology and Medicine, Dr. Mathilde Krim-amfAR Chair of Global Health, and Director of ICAP, and Professor Miriam Rabkin, Associate Professor of Medicine and Epidemiology at Columbia University Medical Center and Director of Health Strategies at ICAP. The primary purpose of the project is to establish a priority research agenda on non-communicable diseases and to foster research partnerships and academic collaborations. One of the first activities of the project was a conference held at the Amman Center in January 2014, featuring leading specialists from the region, including the Director of the Istanbul Public Health Directorate and the Dean of the Koç University Medical School.
In order to deepen the collaboration between the Mailman School of Public Health and counterparts in the region, public health specialists from Turkey were invited to attend the Epidemiology and Population Health Summer Institute in New York. In 2014, one representative from the Istanbul Public Health Directorate and one from Koç University attended. In June 2015, one representative from the Istanbul Public Health Directorate and two scholars from Marmara University's Department of Public Health participated in the program. While they were in New York, they also spoke at an ICAP Seminar on "Changing Health Needs in the Middle East and Turkey," sharing their valuable on-the-ground insights with an audience of 30 experts from the field.
In 2015, the Istanbul Center launched its second collaboration with the Mailman School of Public Health through the "Responding to Changing Health Needs in Complex Emergencies: A Policy Imperative" project, which is supported with a grant made possible by Columbia University's Global Policy Initiative.
This three-year project focuses on the issue of Syrian refugees in Turkey, Jordan, and Lebanon, aiming to influence policy by providing a compelling, evidence-based argument that current frameworks for refugee health are not optimally configured for twenty-first century needs, and that there is an opportunity to enhance health services for displaced persons worldwide. The project has mobilized a team of researchers in Turkey, Jordan, Lebanon and the United States to undertake a situational analysis to identify key policy gaps and opportunities. The American University of Beirut and the Istanbul and Amman Centers are partners in this effort, which is led by Professor Wafaa El-Sadr, Professor Miriam Rabkin and Professor Neil Boothby, Allan Rosenfield Professor of Forced Migration and Health, Department of Population and Family Health.
To lay the foundations for the project, Professors Wafaa El-Sadr, Miriam Rabkin and Lynn Freedman, Professor of Population and Family Health at the Columbia University Medical Center, visited Turkey in March 2015 for a series of meetings with public health officials, scholars and international agencies. While they were in Istanbul, they spoke at a public panel organized by the Istanbul Center on the topic of "Prioritizing Women: Adapting Refugee Health Services for 21st Century Challenges." Istanbul University scholars Zeynep Kıvılcım and Nurcan Özgür Baklacıoğlu presented findings from fieldwork recently conducted in Istanbul with Syrian women and LGBT refugees as well as an assessment of the legal framework in Turkey, which sets the basis for the protection of refugees and their ability to fully access their rights. In their presentations, Lynn Freedman, Wafaa El-Sadr, and Miriam Rabkin offered insights on questions of public health and the right to health for refugee populations, with a focus on women.
The second major activity involved a large-scale two-day event titled, "Responding to Changing Health Needs in Complex Emergencies: Workshop on Refugee Health," held in Istanbul in October 2015, during which 80 specialists on refugee health from Turkey and the region were brought together to share their expertise, discuss recent policy approaches and identify the key challenges faced by the recent influx of refugee populations. Professors Wafaa El-Sadr, Miriam Rabkin, Neil Boothby and Lindsay Stark, Associate Professor in Columbia University's Program on Forced Migration and Health participated in the workshop, giving presentations on their areas of expertise in conjunction with presentations made by public health officials, international agenices as well as several leading scholars. Following the workshop, Professors Wafaa El Sadr, Neil Boothby and Miriam Rabkin, together with the program team of the Istanbul Center, held meetings in Ankara with representatives of the Ministry of Health, United Nations agencies and the Directorate General of Migration Management.
Women and Gender Studies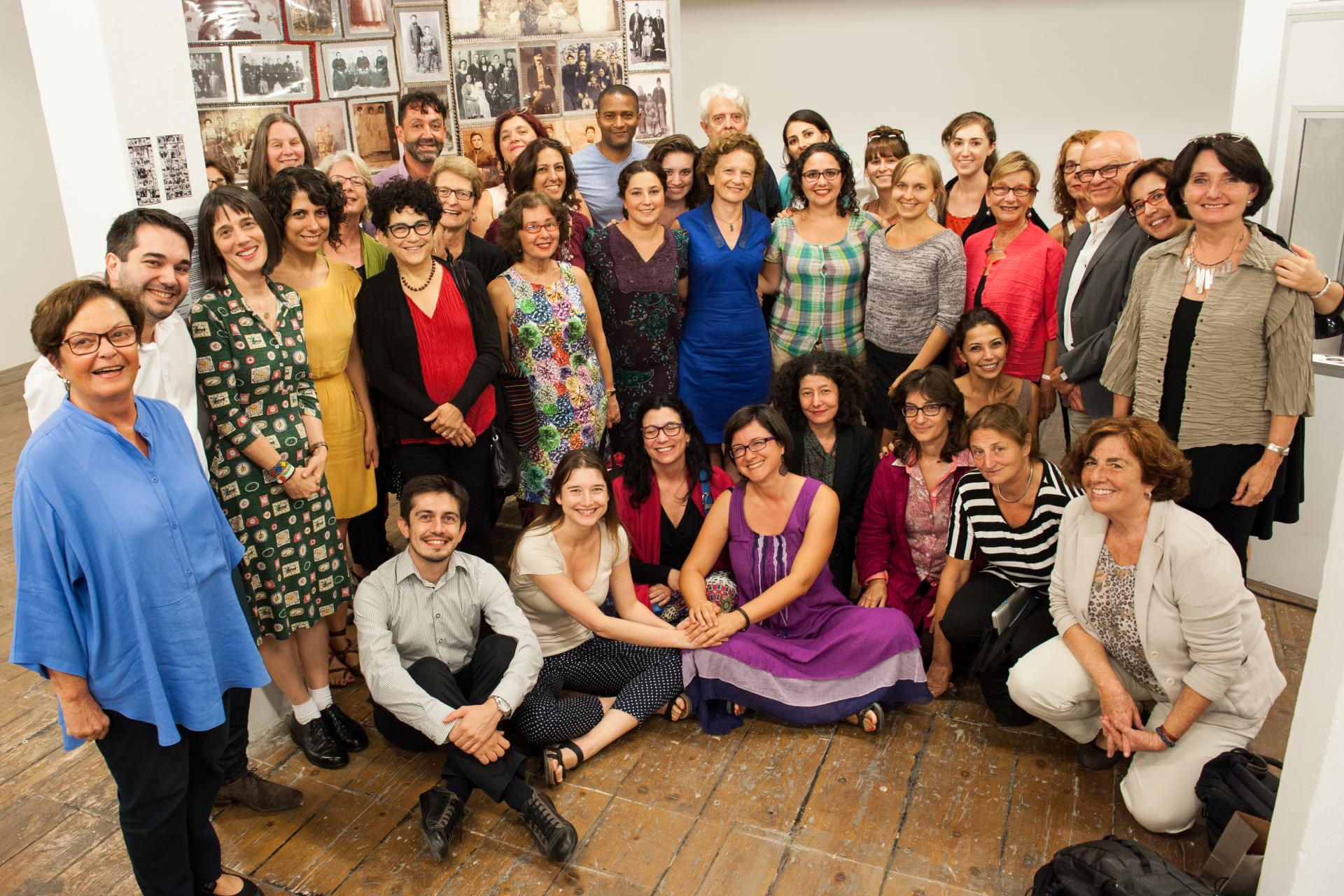 The Center has placed a special focus on gender issues through a collaboration with the Center for the Study of Social Difference on its flagship global initiative, Women Creating Change.
Columbia Global Centers | Istanbul first collaborated with Women Creating Change on a workshop on "Rethinking Gender, Vulnerability and Resistance" held at the Center in September 2013. Judith Butler, Maxine Elliot Professor of Comparative Literature, co-directed the workshop with Professor Zeynep Gambetti of Boğaziçi University, during which 15 leading feminist scholars from Turkey and the region examined concepts related to the workshop's main theme. While in Istanbul, Judith Butler also gave a public lecture on "Freedom of Assembly, Or, Who are the People?" at Boğaziçi University, held as part of the opening of the 13th Istanbul Biennial. In her talk, she examined freedom of assembly as a basic right and the relation between freedom of expression and freedom of assembly, and how this re-conceptualizes notions around the people and the body. Her lecture was attended by over 400 people.
Columbia Global Centers | Istanbul then began a partnership with the Women Mobilizing Memory working group. Starting in 2013, a series of activities were held that fostered links between Santiago, Istanbul and New York. In total, four workshops were held, gathering the transnational group of participants first in Santiago, Montreal, Istanbul and finally in New York. In addition, graduate student members of the working group held two seminars on campus, which also featured graduate students from Turkey.
The Women Mobilizing Memory working group continued its activities in 2015. In March 2015, graduate student members of Women Mobilizing Memory held a University Seminar that initiated the group's Collaborative Keyword Project, inspired by discussions of gendered memory and the political efficacy of various forms of art and activism in recent Turkish and broader transnational contexts. The exhibition first displayed in Istanbul was then adapted and shown as "Mobilizing Memory" at the Kunsthalle Exnergasse / Wuk in Vienna, Austria in March 2015.
The final workshop, "Collaboration and Co-Resistance," was held at Columbia University in September 2015. Working group members met at Columbia and New York University to discuss work in progress; it visited memory sites in Harlem and lower Manhattan; and sponsored a number of public events. Public happenings included an exhibition at Leroy Neiman Gallery on "Intimate Archives: Connective Histories," artists' performances and a roundtable discussion; a Wishing Tree commemorative public art ritual; and a one-day conference featuring various roundtable discussions on performance, art, and activism. Working group members are now in the process of completing the academic publication reflecting the outcome of this three-year scholarly collaboration.
Our Events
Event time is displayed in your time zone.
There are no events to show with the selected date.
There are no events to show.
See current events
August 23, 2023
The series of panel discussions shares lessons learned in the aftermath of two major earthquakes and lays the foundation for enduring recovery.
July 24, 2023
A discussion on how electoral outcomes in both countries could shape the bilateral relations and foreign policies.
July 18, 2023
Columbia students and faculty embarked on a 2,000-kilometer odyssey through the ancient wonders of Western Turkey.