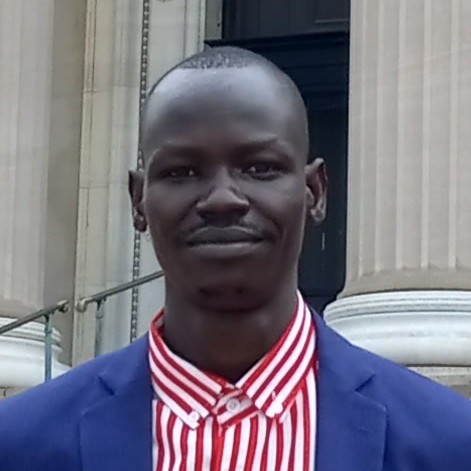 James is originally from South Sudan. In 1999 his family fled the country's civil war and moved to Kenya.
Currently, he is pursuing his masters at the School of International and Public Affairs Candidate at Columbia University (SIPA). 
James served as a Tertiary Connected Learning Coordinator with the UNHCR following the construction of Turkana West University in Kakuma Camp, Kenya. He assisted in the day-to-day operations of the Turkana West University campus as well as the planning, implementation and oversight of a Microsoft project involving ICT coaches at the camp's Instant Network Schools and Youth Centers. His goal was to equip refugees and the host community with digital literacy skills. 
James was a part-time lecturer and researcher at Masinde Muliro University of Science and Technology. They work on issues related conflict management, international relations, diplomacy, political issues, administrative work, human rights, community development, as well as disaster management. 
He graduated at the top of his class with bachelor's degree in Conflict Resolution and Humanitarian Assistance in 2016 and was awarded a graduate assistantship by the Department of Peace and Conflict Studies of Masinde Muliro University of Science and Technology. From 2017-2018, he pursued a masters degree in Diplomacy and International Relations. 
James aspires to see a world where everyone lives a life of dignity and young people have a safe space to lead and drive positive change in their society, without prejudice of gender, religion, race, age, class, ethnicity and sexual orientation.