Alumni Spotlight: José María del Pino receives J-School Global Migrations Fellowship
Additionally, following his graduation from Columbia, José María started working as a Copy Editor at Telemundo 47. 
July 13, 2023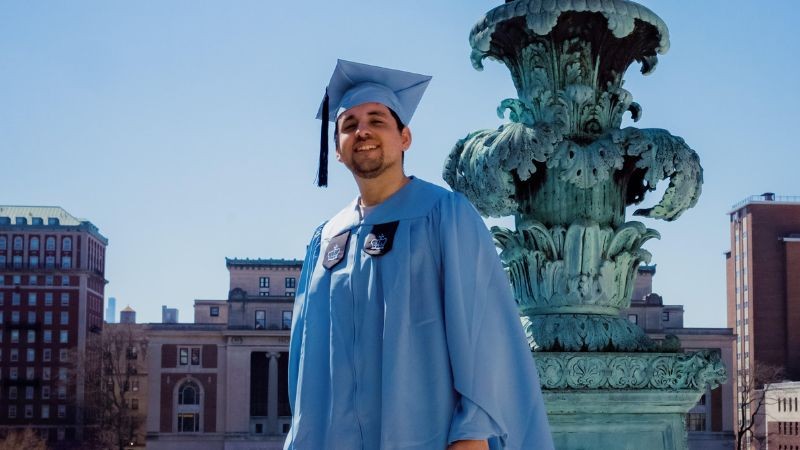 José María del Pino (JRN'23), a Chilean journalist who recently graduated from Columbia Journalism School with an M.A. in Politics Concentration, has been selected for the prestigious Investigative Journalism Fellowship in Global Migrations.
Del Pino's restless nature is evident: After studying Journalism in Santiago, he worked for several years in relevant Chilean media like Canal 13 and Radio Bío-Bío, was an international correspondent for El Clarín in Argentina, and he also started an academic career as a professor of Journalism at Universidad Gabriela Mistral. Even after relocating to New York, he has continued working as a correspondent for Canal 13 and Cooperativa, one of Chile's main radio stations.
The following article is a firsthand account of his experience at the J-School, his thesis project, on being selected as a postgraduate fellow, and of his new role as a Copy Editor at Telemundo 47, a television station that serves as the Telemundo outlet for the New York City area.
Studying at Columbia
Academically, studying at the Joseph Pulitzer School of Journalism under professors such as Nick Lemann, Michael Schudson, and Alexander Stille, was a privilege. Stille – who is a Professor of International Journalism – not only was my thesis supervisor, but I feel like I gained a friend for many years to come. Soon I will attend the launching of his book about the psychedelic movement in the US. He has a great writing style, and we have discussed the possibility of translating his writings into Spanish.
Practically all of my studies were self-funded, but every penny has been well invested. It would have been very difficult to do it without the support of my family and my future husband, Pedro, who left everything behind to join me. The support from Columbia was also crucial. We didn't want to rush into marriage to fulfill legal requirements, but the university never questioned that we were a de facto couple and not legally married. We were accommodated in a family apartment and all we received was love and support. Pedro also managed to pursue his dreams and I see him very happy. He was accepted to the American Music and Dramatic Academy (AMDA), one of the top schools in the country in the field of acting, so moving to New York was a great family decision. Several colleagues have asked me if it has been worth it. And of course, it has!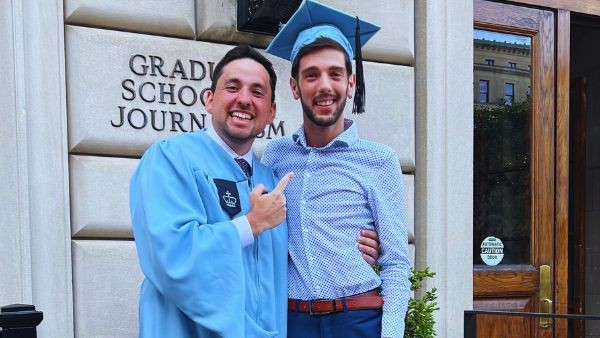 The M.A. in Politics Concentration thesis is a once-in-a-lifetime opportunity for many journalists, as we have six months to extensively research a topic with associated resources through grants. In my case, in addition to that, the school awarded me the Morton Mintz Fellowship for covering international social policy, which allowed me to finance a trip to Peru and Colombia, following the trail of the Tren de Aragua (a Venezuelan criminal organization present in several other Latin American countries).
My initial idea was to expose the Tren de Aragua unique criminal business model, which I define as a "criminal conglomerate" with no particular affinity for any specific illegal activity: If in one territory they need to kill, traffic, and steal, they do it. If they need to extort, sexually exploit women and men in another place, they do that too. Basically, they respond to the "market gaps" of each country.
This model is very interesting because it sets them apart from Mexican cartels, Brazilian militias, or the Italian mafia. However, during my on-the-ground reporting, I realized that beyond the novelty of their criminal model, what truly distinguishes the Tren de Aragua is how they have employed the largest diaspora in the history of Latin America as a spearhead for their international expansion. For that reason, I refocused my research to concentrate on the victims. It was heart-wrenching and very painful, but the support I received from the Dart Center for Journalism and Trauma, was crucial to prevent the discoveries and stories along the way from paralyzing me.
Nowadays, I am in conversations with different media outlets about publishing my MA thesis, which I hope to accomplish soon.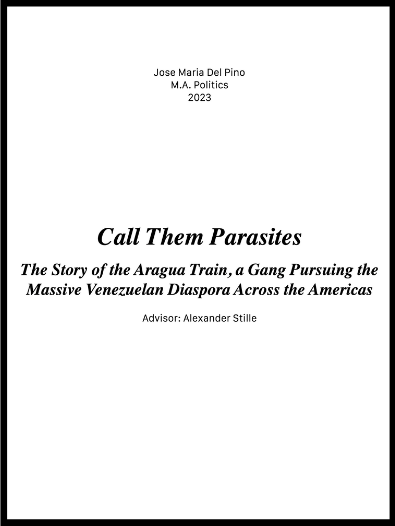 The Global Migrations Fellowship
I am thrilled to have been selected for the Columbia Investigative Journalism Fellowship in Global Migrations. It was a competitive process, and when I received the call, I couldn't believe it. I see it as recognition of my thesis, for the sensitivity and empathy portrayed in the text towards the victims, even in horrifying scenarios that make us question our own nature as a society. This program – which starts in September 2023 – was previously awarded to another Chilean J-School alumna, Muriel Alarcón (JRN'20), so I also see it is an acknowledgement to the quality of reporting that we do in Chile. I hope to live up to it.
I cannot reveal much about what we will investigate during the nine months that the program lasts, but what I can say is that we will attempt to shine a spotlight on a type of migration that will shape the next three decades worldwide, which –unfortunately – countries are not adequately prepared for. Once again, the most vulnerable will be the ones who will suffer the most.
Working at Telemundo and the future
In June, I started working at Telemundo 47, which covers news for a significant part of the northeastern United States. I am grateful for the team and the warm reception they have given me. Getting to know a US newsroom provides a fascinating insight into our own industry in Chile. I have the feeling that we are overly self-critical - the quality of our country's journalism matches that of developed nations.
I am a Copy Editor at the channel. What I've always done is on-camera journalism, so this is not my natural environment, but the responsibility of ensuring that everything said on screen goes through my editing and revision is an exciting new challenge. The initial evaluations have been very encouraging, and the ratings have been very favorable. We are the most-watched news program in the Tri-state area in any language.
I will also continue working as a foreign correspondent for Canal 13. I have a deep affection for the channel and its people, who have helped me throughout this whole process, especially Claudio Villavicencio, Director of the Press Department. Additionally, from here, I have had the opportunity to cover two historic indictments against former President Trump with the support of a team in Santiago, led by Ivanna López, who is top-notch and demonstrates the high-quality international journalism that can be done in Chile. 2024 is an election year, so I would have to be crazy to leave now!