Archiving the Mill Lands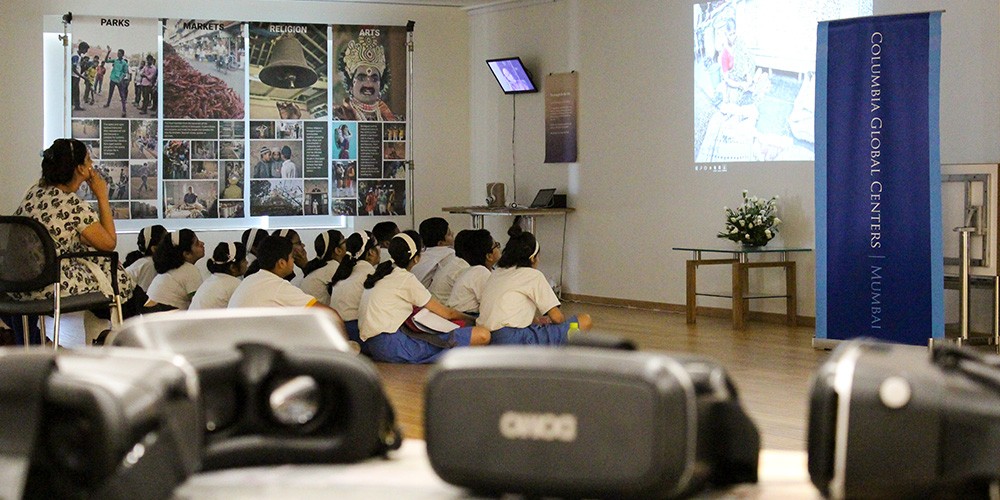 Real estate is a hugely contested asset in Mumbai. As part of its Mumbai as a City of Knowledge series, Columbia Global Centers | Mumbai recently hosted an exhibition from November 20-25 on the erstwhile mill lands of Girangaon documented through the eyes of the people who lived and worked there. The exhibition was inaugurated by Nandita Das, film artist and social activist, and followed by an opening panel with Anita-Patil Deshmukh, Executive Director, Partners of Urban Knowledge and Action Research (PUKAR), Neera Adarkar, Urbanist and Graciela Montaldo, Professor, Department of Latin American and Iberian Cultures, Columbia University.
The exhibition was based on 'Mythologies of Mumbai,' a seven-year project of PUKAR, which uses a 'right to research' methodology to democratize research as a tool for alternative pedagogy, advocacy, intervention, and transformation. Designed by HELM Studios, the exhibition used virtual reality technology, photography and video along with personal interviews, urban maps, and vast historical records, to bring new interpretations and perspectives of Girangaon's past, present and future.
Various visitors from academia, civil society groups, and private sector organizations such as World Resources Institute, India Tourist Company, and numerous city-based architectural firms, attended the exhibition. Visitors were taken on a historical and visual journey of the mill lands told through the rise and the fall of the textile industry in Mumbai. Montages illustrated the lives of the mill workers, who lived in one-room tenements called chawls. The inclusion of the immersive virtual reality stations gave the viewer an idea of how generations of mill workers and their families have lived in chawls and low cost housing.
The exhibition also offered glimpses into the culture, religion and art forms practiced and produced by the mill-worker community. One could choose to watch city experts speak about the rights of the mill workers, the future of the mill lands, or view the online archive through the several interactive stations interspersed through the exhibition. "A most interesting way of recording events and very useful to researchers," observed Romila Thapar, a renowned historian.
The Center organized several walkthroughs of the exhibition to acquaint student groups with newer methods of archiving and presenting the city's past. Educators and middle school students from Heritage Clubs at Arya Vidya Mandir School and high school students from DSB International School attended the tours. Academics and students from leading institutions, including the Tata Institute of Social Sciences, Kamla Raheja Vidyanidhi Institute for Architecture and Environmental Studies and LS Raheja School of Architecture participated in the programming. Simran Arora, a student of Academy of Architecture, Rachana Sansad, commented that the availability of the online archive will provide a rich research resource for her thesis. Another visitor, Sujata Bhosale, noted, "The use of media has been well thought out and brings out evocatively a reality that many of us in this city are unaware of or choose to ignore."