Barnard's Elizabeth Hess performs in Chile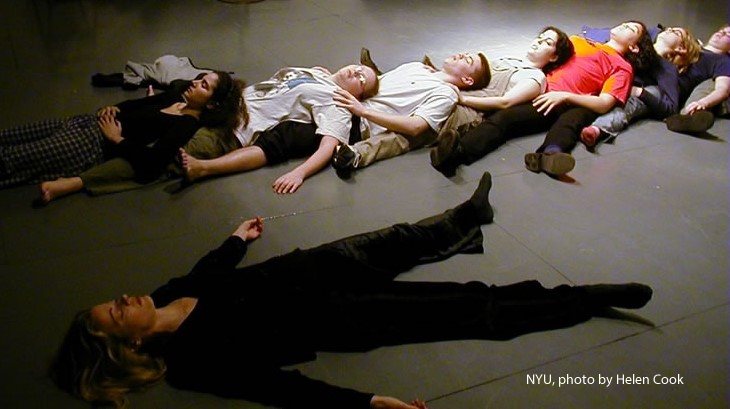 Elizabeth Hess, a New York-based arts educator, playwright, performer and director will visit Santiago in October to lead a workshop at the Women Playwright's International Conference (WPI) as well as at Universidad Católica's Theater Department. She is professor of the "Shakespeare/Chekhov" Laboratory of the Theatre Department at Barnard College of Columbia University.
The WPI festival, with the collaboration of the Santiago Center, will take place between October 7 and 12. ITs aim is to facilitate communications, meetings, exchanges and joint-activities among the international community of women in theatre. This 11th version is the first one in Latin America and its themes focus on territory, society and female playwriting. WPI was founded in 1988 and held its first conference in Buffalo, New York. Since then, women playwrights have gathered in Canada, Ireland, Greece, Australia, the Philippines, Indonesia, India, Sweden and South Africa.
The activities of WPIC 2018 will take place in the heart of the city of Santiago, in two of the most emblematic neighborhoods: Barrio Lastarria and Barrio Bellavista. Some of the venues are: Gabriela Mistral Cultural Center (GAM),Centro Cultural Palacio de la Moneda, Teatro Nacional Chileno (TNCH), Universidad Católica's Theatre Department, SIDARTE, Cultural Center Teatro Del Puente, among others. 
On Thursday, October 11, Elizabeth Hess will lead the workshop "ACTING & BEING: Explorations in Embodied Performance" at Sidarte. Her work is a fusion of physical theater modalities culled from Western practices (Psycho-physical actions, Viewpoints) Eastern practices (Butoh, Kundalini yoga) and related performance disciplines (Mask, Puppetry). "Embodied Performance invites participants to appreciate, investigate and uncover the artistic self through original work that is elastic, inclusive and multi-disciplinary... the practice enlivens the individual's capacity to expand their understanding through experimentation, investigation and collaboration within the collective", she explains.
 At Universidad Católica (UC), Hess will head a workshop entitled "How to Transform Social Emergencies in Artistic Creations", focused on the exploration of various performance techniques and how to address current social problems through the body. During the event, participants will perform corporal explorations and will carry out collective creative work based on texts from newspapers, articles, essays and/or archives that address issues of social urgency such as gender violence, migration or others of interest to the participants. Finally, these texts, images and objects will be transformed into pieces of collaborative creation.
 Elizabeth Hess envisions the workshops both at WPI and at Universidad Católica (UC) as laying the ground-work for future cross-cultural collaborations, including an international exchange between Columbia and UC in which students create theater projects that reflect and enlarge upon their cultural perspectives and understandings. 
 Hess is eager to meet with artists and activists during the WPI conference to discuss the inclusion of stories from Chile in her play called SPOILED - a global examination of violence against women (VAW) based on true stories of displaced, marginalized and silenced females. "By articulating unspoken truths and lies, the piece breaks through the silence by addressing the myths of masculinity that are embedded within the patriarchy imperatives that undermine the autonomy of men, as well as women... the play investigates the inner and outer motivations, conditioning, cultural expectations and social mores that lead to VAW throughout the world", she says.
 For the WPI Program, click here.
If you want to know more about the Workshop at Universidad Católica, click here.