Climate Hub | Rio: Columbia University and Rio de Janeiro City Hall Launch Brazil-based Climate Research and Network Center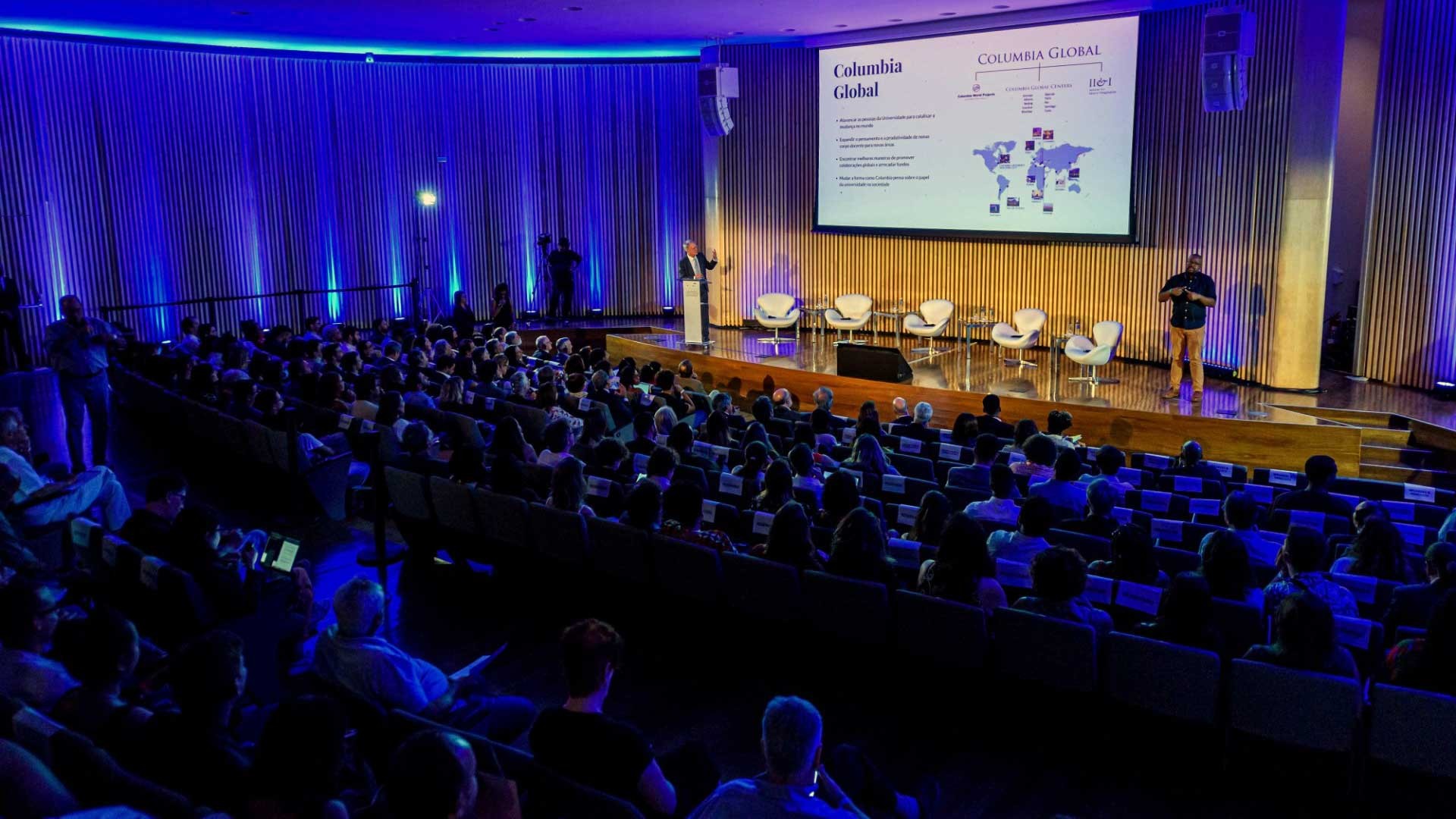 The Climate Hub | Rio, a research and innovation center on climate based in Brazil, was launched Tuesday, March 14, at the Museum of Tomorrow. 
Climate Hub Rio is a knowledge, research, and innovation hub that will bring together experts from Brazil, Columbia University, and around the world, in an enabling environment for scientists and other researchers to work on global climate issues while benefiting from an important regional perspective. The project is a partnership between the City of Rio de Janeiro and the Columbia Global Center I Rio de Janeiro, and will enable more effective collaboration and outreach between local leaders in Brazil and the global scientific community.
The choice of Rio to host Columbia's first Climate Hub Rio is emblematic, as the megalopolis has an environmental vocation given its immense forest cover and having hosted important Climate Conferences, such as Rio 92 and Rio+20, which established the guidelines on climate negotiations worldwide that last until today. 
"The city of Rio is a laboratory of environmental sustainability, with different biomes within a megalopolis. We need to lay the foundations for a low-carbon economy in Rio de Janeiro", said Mayor of Rio de Janeiro Eduardo Paes.
In addition to these characteristics, "Rio has more vulnerability, in terms of the number of people that could potentially be affected by sea level change, than any other city in South America. There are so many ways in which Rio and Brazil are going to be really important players in solving climate change. (...) What happens here in Rio, what happens in Brazil, affects the whole planet", said Alex Halliday, Dean of Columbia Climate School.
The Climate Hub I Rio launch event was attended by more than 400 people and several Brazilian and foreign authorities in the fields of climate, environment, human rights, public policy, technology, and innovation. You can read more about the panel discussion on the climate crisis and its impacts through perspectives on public health, forests, and indigenous rights here. A panel on urban sustainability and the role of cities in the climate crisis completed the day's program (news article to be published soon).
Celso Amorim, special advisor to the Presidency of the Republic of Brazil and former Minister of Foreign Affairs, highlighted that climate-related issues are present in every aspect of our lives, from legal affairs to integration processes, and even in matters of war and peace. Therefore, addressing such issues is crucial to Brazil, especially as the country is re-establishing itself as a player on the climate agenda. 
The National Secretary of Climate Change, from the Ministry of Environment and Climate Change, Ana Toni, agreed with Amorim and praised the Climate Hub I Rio initiative, stating that it is crucial to take action now.
The Columbia Global Center Rio completes a decade of operations this year and is part of a network of ten global centers of Columbia University, one of the world's leading academic institutions. The centers serve as knowledge hubs that aim to educate and inspire through research, dialogue, and action. They promote understanding of today's most pressing global challenges, facilitate partnerships and build the necessary bridges in this changing world.
"The spirit of collaboration is what brings Columbia University to Rio and Brazil. We have a lot to offer in the search for solutions to climate change. And we need to better understand the climate crisis in its regional and global dimensions. Combating climate change is a mission for the entire university", said the director of the Columbia Global Center Rio, Thomas Trebat.
Dr. Wafaa El-Sadr, Executive Vice President for Columbia Global, added: "The partnership we celebrate today is a true embodiment of what I believe is the premise as well as the power of coming together, of political will – coming together with science, with innovation, with community engagement and with partnership". 
Climate Hub I Rio will offer scholarships to Brazil researchers and scientists to develop projects in the country and also at Columbia University, in New York. The center's goal is to promote broader cooperation between the academic community at Columbia University and Brazil, as well as enable more effective collaboration and outreach between local leaders and the global scientific community.
From education to action
The Climate Hub will be organized around four main activity models.
Education: Columbia faculty participation in educational programs to be developed at the Hub.
Convening: development and organization of events and programming around diverse climate-related issues, including energy transition, land use, and climate equity.
Network: creation of connections between academic talents, with the aim of promoting research and, above all, expanding the dissemination outside of Brazil of the work and results developed by the Hub and partner educational institutions.
Action: Make a concrete impact on climate policy actions locally in Rio de Janeiro, nationally in Brazil, and globally through the Columbia University network.