Columbia College Student Researching Migration Issues in Light of Chile's Constitutional Rewrite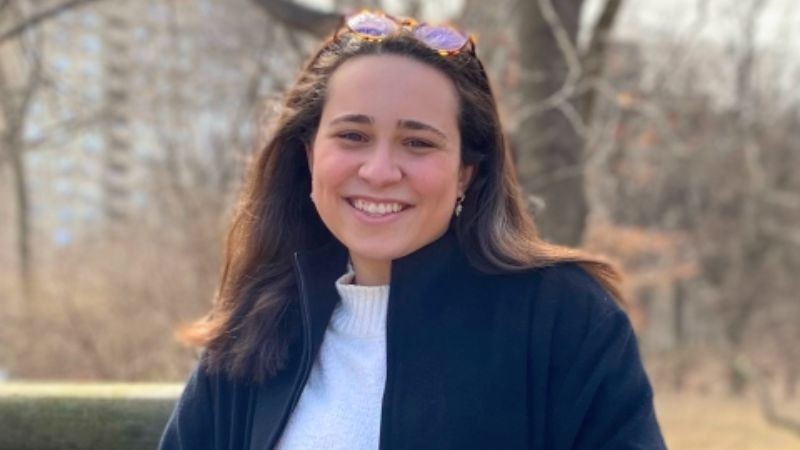 Astrid Liden, a rising Junior in Columbia College, is currently working as an intern in the research program of Servicio Jesuita a Migrantes Chile (SJM Chile), a humanitarian non-governmental organization that works with migrants. As a Venezuelan herself, she is passionate about issues of migration and justice.
Liden is participating in a relatively new Scholars program for undergraduates, the Laidlaw Program, which supports students for two summers: one where they pursue research, and one where they contribute to work in the field and/or engage with a specific community. The Santiago Center coordinated with the Office of Undergraduate Research and Fellowships at Columbia to help place Liden at SJM Chile, and the Center got in touch with her to see how she is advancing.
- What does your work at SJM Chile involve?
I am working in their research and impact sector, on a project in light of the rewriting of Chile's Constitution, which has been in use since the Pinochet dictatorship of the 1980s and was just voted to be rewritten by a plebiscite vote. I am looking at which elements of the 1980 Chilean Constitution should be kept regarding migration and which parts should be rewritten, from a human rights perspective, to be able to more fully understand the democratic approach Chile can have to migration now and in the future.
Chile has one of the highest influxes of Venezuelan migrants in the region, with many arriving by foot, bus, and rarely by plane. Current laws in Chile, some declared constitutional and others not, have led to mass deportations of migrants, the majority of which are Venezuelans. In this project, I've been able to meet with researchers, lawyers, and academics to learn more about the governmental process of Chile and the impact this Constitutional rewrite can and will have on the lives of migrants throughout the country.
- What do you like best about your work at SJM Chile?
I have always had a deep interest in the intersection of human rights in politics and transitional justice in the region. Being able to learn more about the historical and present-day implications of the 1980 Constitution and the entire process of the election of its new writers, the focus on the inclusion of migration both historically and the need for change today, as well as the role of organizations like SJM Chile and so many others in this rewriting has been an amazing experience. I am able to blend my interests in history, political science, and human rights in Latin America and have had an amazing opportunity to truly see the necessary interaction of all three.
I have also been able to meet with other students, interns and staff who have been working with SJM Chile to learn about their own interests and motivations that have brought them to where they are. Whether this takes me into academia or law or even governmental work, my experience at SJM Chile, diving deep into research and advocacy, has given me an amazing look into the role of governmental institutions over the years and the role they play in collaboration with nonprofit organizations like SJM Chile.
- How did you originally get involved with these issues?
My interests in the Venezuelan migration crisis stems from a personal connection. My family is from Maracaibo, Venezuela, and my grandparents had to come to the United States as forced migrants. Growing up, I would return to Venezuela often to visit family and friends over the years, but due to the worsening of the humanitarian crisis, daily life in the country has shifted dramatically and this has led to millions having to flee within Latin America and outside the region.
What matters most to me is making people's experiences and stories heard. As a migration crisis that has not yet been internationally recognized as a refugee crisis, millions of Venezuelans around the world lack an international protection for the human rights abuses they have been forced to flee. I hope that my work, at whatever level it may be, focuses on the people most impacted and ways my family members and millions of others can be recognized by the world.