Columbia Global Seminar on Byzantine and Modern Greek Encounters Opens with Orientations at the Global Center and Studio-X Istanbul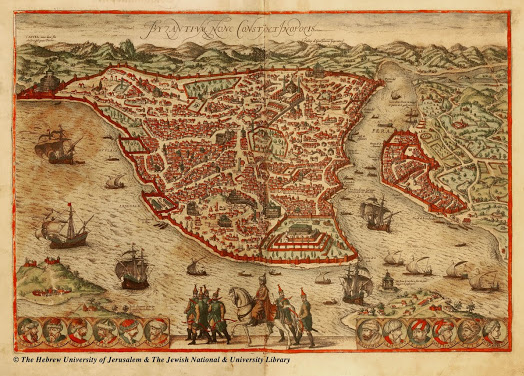 Columbia Global Centers | Turkey is delighted to welcome four Columbia College students and Professors Martha Howell and Karen Van Dyck to Istanbul for a new semester-long course now being taught at Boğaziçi University. The program opened with an orientation given by Columbia Global Centers | Turkey, introducing students to the history of the city through two unique tours and a lecture about getting used to life in Istanbul.
Students will spend the spring semester anchoring their studies in Istanbul by participating in two Columbia-style seminars.Although distinctive in their subject matter and disciplinary approach, each seminar addresses the question of how, from the Middle Ages to the present, westerners have interpreted and incorporated features of Greek culture. The first course will explore the history of western Europeans' relationship to Byzantine culture when Constantinople reigned as a cultural capital of Christendom; the second examines how the World has responded to Greece at the crossroads of East and West since the Fall of Constantinople with literature as its main lens for reading culture.
"Byzantine Encounters," taught during the first half of the term, examines the experience and reactions of western European travelers, traders, and warriors in Constantinople during the Middle Ages, prior to and immediately after the Ottoman conquest of 1453 and continuing into the early years of the European Renaissance. Readings will include narrative sketches of the history of the period, critical literature examining key instances of encounter, and primary sources produced by westerners that record their impressions of and experiences in Constantinople. The classroom experience will be enhanced by extracurricular visits to monuments in Istanbul that display key features of Byzantine and early Ottoman culture.
 
"The World Responds to the Greeks," taught in the second half of the term, foregrounds moments in literary history and the history of representational forms when Greece's position at the crossroads –Byzantine and Ottoman; Ancient and Modern; the Balkans and Europe; Greece, Cyprus and Turkey; and Greece and America – become comparatively productive in various fields (Literature, History, Sociology, Film, Architecture, Anthropology). Students will have the opportunity to read works by writers and scholars from the region as well as to meet and discuss their work with them.  In both courses, students will be asked to consider how questions are shaped by different sources and how the interpretation of these sources may vary depending on the disciplinary approach.
To help navigate their encounters in modern-day Istanbul, students also enroll in a Turkish language course and choose at least one elective course from the broad range of Bogaziçi University course offerings.
This program was developed with support from the Andrew W. Mellon Foundation.