Columbia's Goldberg Highlights Importance of Early Detection, Treatment in Depressed Adolescents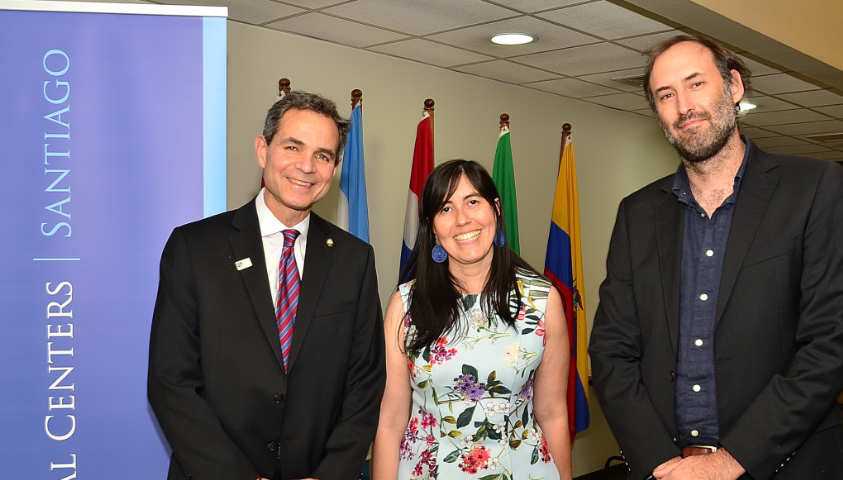 Detection and treatment of depression at an early stage is fundamental in helping adolescents to cope with the illness and prevent it from turning into a larger problem later in life, according to Pablo Goldberg, Associate Professor of Clinical Psychiatry and Medical Director of Pediatric Anxiety and Mood Research Clinic at the Columbia University Medical Center.
Goldberg was invited to Chile in the third of the four-part Global Mental Health Series, sponsored by the Santiago Center, the Millennial Institute for Depression and Personality Research (MIDAP) and Universidad Católica's office of the Vice-Provost for Research. The series - featuring Columbia University experts focusing on mental health issues - was inaugurated in early July by Lena Verdeli, Founder and Director of the Global Mental Health Lab, and continued in October by Madelyn Gould, Irving Philips Professor of Epidemiology in Psychiatry at the Vagelos College of Physicians and Surgeons.
For his part, Goldberg - presenting end-November during the master class "How to Diagnose and Address Adolescent Depression" - said that only about 30% of adolescents with depression actually receive treatment. "This does not just affect emotionally, it can be physical. A depressed person who has not received psychological treatment, or who received poor treatment, is much more predisposed to suffer from cardiovascular illness, diabetes, obesity and cancer," he noted. "Depression is the number one cause of disability in the world. It is a serious sickness that includes the brain and the body and it affects all ages and social strata… It is a complex, syndromic set of signs and symptoms that last for weeks."
Suicide is the worst complication of depression in general, and particularly during adolescence, he noted, underlining that in the US, between 2007 and 2017 the suicide rate for youth aged 10-24 years jumped 56%, becoming the second cause of mortality in that age group. The subset of 10-14 years surged a surprising 177% during the same period.
"Keep in mind that up until the 1970s, psychoanalytic literature did not recognize adolescent depression, that they could not get depressed because they didn't have it internalized in their brain," Goldberg added. "In these 50 years since then, there has been a lot of research with genealogical, biological, psychological data that negates that position."
Depression can manifest itself in adolescents due to a number of factors, including hormonal changes, puberty and development, difficulty sleeping, psychosocial pressure such as identity, sexuality, school and academic performance. There can be physical or emotional trauma and substance abuse. A high amount of screen time may also increase depressive symptoms, due to increased exposure to unattainable body images, violence, and normalization of drug or alcohol use. It leads to decreased attention and higher obesity and school problems.
The psychiatrist warned that there can be up to 490 different types of depression, but there are symptoms that can signal when to look for help:
Marked change in school performance
Inability to cope with daily activities
Marked change in mood, sleep or appetite
Abuse of alcohol or drugs
Threats of harm to self or others
Self-injury or self-destructive behavior
Frequent outbursts of anger or aggression
Strange thoughts, feelings and unusual behavior
Depression screenings are extremely important in early detection, and Goldberg underlined general health screens such as PHQ-9, or targeted depression screens such as CESD to look for key depressive symptoms such as sadness, irritability, sleep problems and anhedonia (the inability to feel pleasure). Depression is closely associated with suicidal thoughts and behavior, and so a correct diagnostic is needed to assess suicidal ideation and behavior.
The event was opened by MIDAP Research Director Alex Behn, who declared that "today it is clearer than ever that the protection, promotion and restitution of mental health is urgent. This is a central, extremely important issue. In Chile we're all familiar with data that the prevalence of depression in our country is higher than in countries with which we like to compare ourselves. The barriers are high… it seems that no effort is sufficient."
"The presence of psychopathology or problems in mental health in adulthood, could be seen as a failure of detection at an earlier stage of life, as many adults that suffer from mental illness began with this during infancy or adolescence," Behn added, emphasizing the importance of early detection.
During his time in Chile, Goldberg also connected with the leaders of neuropsychiatric foundation Nepsis and presented on bipolar transformation in children and adolescents. Further, he met with officials at the Health Ministry's Department of Mental Health.
Use this link to access the photo library of the event.