History in Mumbai's Colleges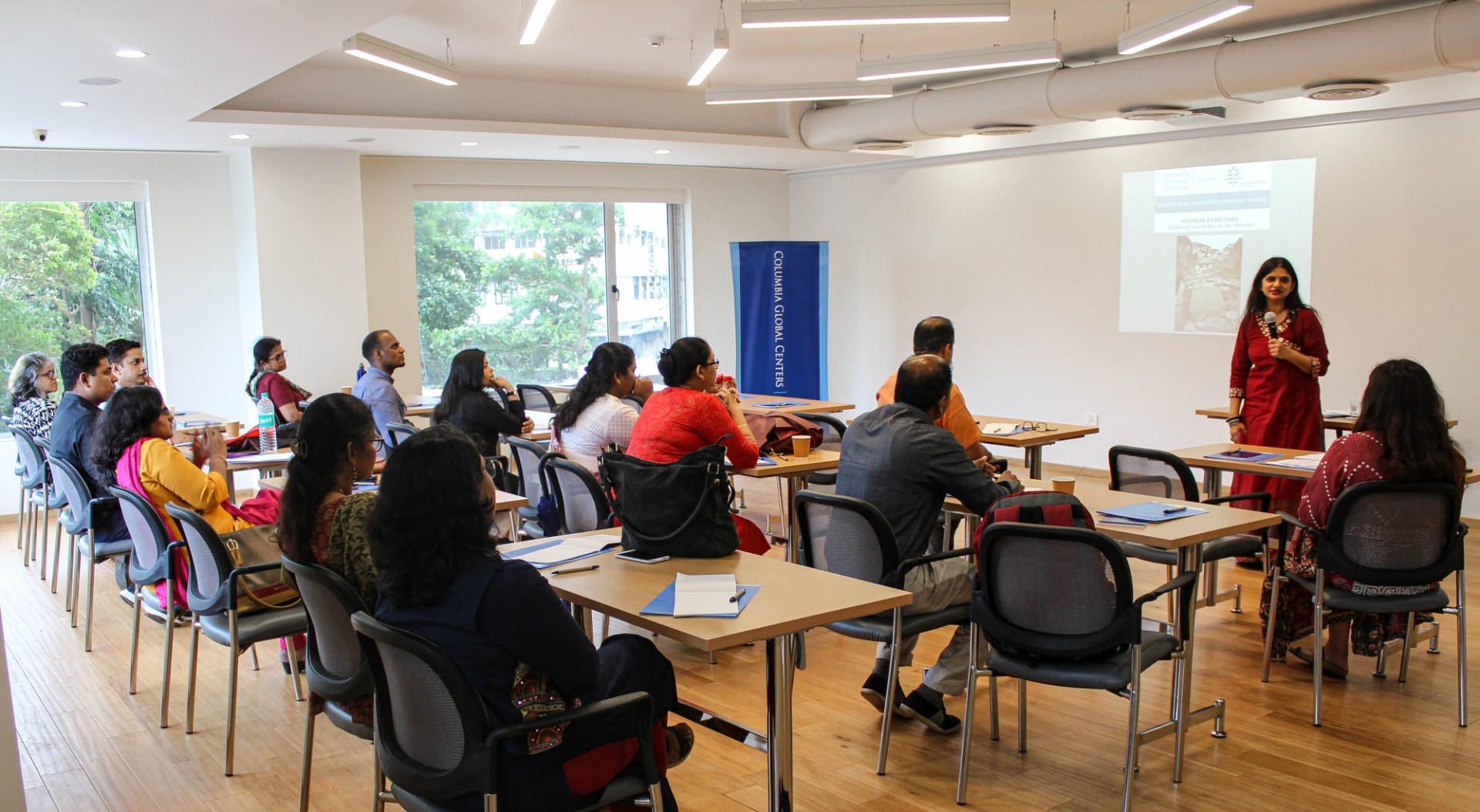 As a part of its 'Higher Education Reform' initiative, Columbia Global Centers | Mumbai entered into a partnership with the South Asia Institute at Columbia University to launch a new program, the Historical Methods Seminar Series. This six-part series exposes participants to new methodological frameworks for History beyond traditional archives and records.  Academic experts draw on art and visual histories, field methods, life histories and oral narratives, architectural and material sources, digital sources, and city-wide archives. 
The program, which is being conducted in association with the Mumbai History Teachers Academy, aims to strengthen research capacity and teaching among college history professors in Mumbai.  One of the key stipulations for colleges gaining autonomy from the university-controlled examining body is strengthening research and publication outputs among faculty at the college level.  Colleges also have an opportunity to develop creative syllabi and assignments as they take charge of designing their own curricula.  To support the colleges' efforts toward these goals, the program leverages Columbia University's expertise by showcasing cutting-edge research methodologies and interdisciplinary approaches in the study of History. 
The inaugural seminar of the series was conducted by Dr. Ravina Aggarwal, Director of Columbia Global Centers | Mumbai, on August 8, 2019.  Entitled, 'Witness to History: Fieldwork and Ethics at the Margins,' Dr. Aggarwal's presentation drew from over three decades of fieldwork in the Himalayan borderlands of Ladakh to provide insights on ethnography as a method of historical knowledge production.  By delving into the region's history, socio-cultural relations, and case studies from her own research, she outlined strategies, tools, and ethical challenges of conducting research in a place where historical truth was deeply contested and the very identity of a social group was at stake. 
The presentation was followed by a lively discussion.  Participants elaborated on their own research projects and shared instances of ethical dilemmas encountered in their work, along with deliberating on the best practices to address them.  Professors in attendance represented some of the city's leading colleges.