Istanbul Center Stories: Ali Betil, '14AR
Ali Betil, producer, director, and cinematographer, is one of Turkey's most talented filmmakers. He received an MFA from the Film Program in Columbia University's School of the Arts in 2014, and has produced multiple award-winning films such as Keep the Lights On (2012) and Love Is Strange (2014). 
May 08, 2018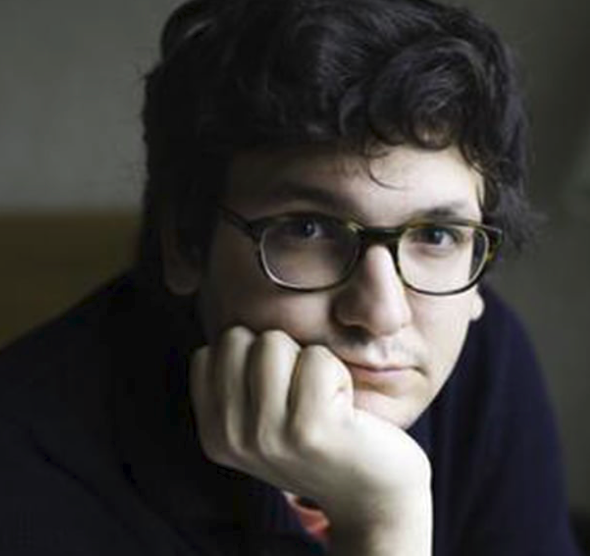 You received an MFA degree from the Film Program in the School of the Arts at Columbia University in 2014. Can you tell us a little about your experience? How impactful has this experience been on your career?
There is a lot of discussion on whether artists can be taught or whether they need an education, as some of the most influential artists have not been educated in an academic setting; they are self-made, reflecting their own experiences and observations.
I disagree with this notion, and I believe the Master of Fine Arts degree at Columbia is an experience all by itself, and for one thing, it gave me lifelong friends and is continuing to give me access to extremely talented and accomplished individuals who have ended up being influential in everything I do.
What Columbia specialized in and provided for me was definitely a thorough grasp of the craft of screenwriting and storytelling, as the film program is heavily focused on that and should continue to do so.
The sophisticated study of film as a medium in all its details at Columbia reassured in me the idea that anyone can make a film at any budget and there is a venue for every film. But, the most important aspect for success is genuine creativity.
Knowing what others have done before you is very valuable, but living in New York City and having access to its incomprehensibly complex culture, be it in the art of the city or in the vast collection of humans that inhabit it, is an experience every creative mind needs to become a genuine artist.
New York City demands from every individual to become an artist themselves, to self express in a way to discover their own selves and their own identity. The key to success is becoming an individual without any attachments to judgments or complexities of the social norms they are raised in, be it in family or within society.
That is a key experience for individuals with a creative mind and the role of artistry is always challenging the norms.
The thing that has been most valuable in my experience of living in New York City and studying at Columbia is the humbleness of the individuals I met and their collective desire to see everyone excel at the things that they do and their humble availability.
That for me has been the core of American culture.
The city has an immense sense of individualism, but in a collective work, everybody works together to finish that work in the best way possible without letting their own egos get in the way.
I believe I miss that part of collaboration the most.
You are working on a film series with Columbia Global Centers | Istanbul, among other things. Can you tell us about the things you are working on now?
We are developing a film series and a master class retrospective here in Istanbul through Columbia Global Centers | Istanbul. We also plan to collaborate with the recently established Sakıp Sabancı Center for Turkish Studies on campus.
We are also hoping to develop a cultural exchange program where we invite Columbia graduate students and professors to come give lectures on subjects that are explored at Columbia University, including but not limited to film, music, literature and history. I really enjoy TED Talks, and our program could be something similar – a Columbia Lecture Series, from around the world.
As a film student, I was attending lectures on different subjects on Columbia's campus in my free time, and one of the most influential experiences for me was discovering that an astronaut was giving lectures at Columbia.
When I have discussions about promoting a healthier society and end up not thoroughly communicating my desire for a more tolerant and accepting society globally, I sometimes end the discussion by saying just that.
When people hear the perspective of looking at Earth from outer space, all discussions kind of become pointless; our significance and self-made importances melt. Outer space and space exploration are mind-blowing concepts for me, and I find myself now much more attracted to Science Fiction. I would love to have the opportunity to listen to an astronaut give a lecture in Istanbul.
That experience might change the way most people think here in Turkey.
We also aim to have recent graduates and professors, who are on sabbaticals and wish to come to Istanbul, come be our guests, and have them share their experiences at Columbia with the new generation of Turkish students, while also learning about Turkish culture, in hopes of creating a more positive relationship in a more collaborative way.
It becomes much more valid once you move away from the United States as an international student to bring a piece of New York and your experience with you and try to explain what I have experienced to Istanbul. They are very similar cities in the magnificence and size and in their complexity, and where New York may represent the Capital of the New World, Istanbul was the Capital of the Old World. And they definitely need a better dialogue.
I am already doing that with the movies I am involved in and I thought this could be one way of doing this cultural exchange as well.
In 2015, you produced the LGBTI film, "Love is Strange" (that was screened at our Studio-X Istanbul office). When you produce a film, how do you choose the theme and is there a particular message you want to convey to your audience? 
Love is Strange is a movie about two individuals who have lived together and decided to marry each other but I refrain from calling the movie an LGBTI film.
I have witnessed that even positive categorization eventually ends up creating a society where members of that society with an LGBTI identity or any other identity end up being discriminated.
In a perfect society, there shouldn't even be a desire to categorize people based on their sexual, racial, or any other distinctions that are given to them by birth. I believe American specialty and exceptionality compared to European traditions is that, and might be the key to the success of this society above others.
We can create distinctions only based on individual intelligence and self-accomplishments as anyone who applies to Columbia, the most selective school in the United States, knows, and anyone who has gained success in America knows as well.
For me, Love is Strange is a film about humanity, a story about our desire to be appreciated in creating the life we want and living the life we want with the people we want in our own pursuit of happiness. This story is specifically about the story of two individuals who are simply in love and they are of the same gender, and they love each other just like any other. 
Love is Strange was the concept of the director and the writer, and when it became a story about gay marriage, there was a huge public debate at the time in the United States on whether states can allow or disallow individuals to marry each other based on their gender.
I wanted to get married to my boyfriend at that time; we were already living together in the same home, in Jack Kerouac's very room, where Allen Ginsberg and the beat generation most likely hanged out. We had lived there for four years and we were simply happy with what we had.
But we lost it the moment we graduated. Parents, old friends, our society where we came from, the moment we returned, immediately started interfering in hopes of 'normalizing' and 'saving' us from the discovery of our identity and our happiness.
I don't think you can create a healthy society from unhappy individuals. Artists can not create a world full of rainbows and butterflies, when the core of their positive individual energy is taken away. Where love recedes, hate may enter, and all of a sudden we may be creating the very hell we are trying to avoid, simply for not allowing others to to live the life they want with their own identity.
Turkey has quite a few unhappy individuals from my observations and some of them have everything they can wish for materially. But that is not always enough for happiness. Suppression and oppression in any form, in any way, create vengeful and hateful individuals.
Pursuit of happiness is a key notion in the United States Constitution. In my opinion, that must be the breaking point in any discussion against gay marriage, or against individuals who pursue happiness and are of the same gender, and are happy living together.  
It could take some years before we can have a society in the country I was born in with similar tolerances to New York City. I thought being involved with a film that dealt with these concepts would be a very successful film. I was right.
The themes of the movies I have been involved with have always been about human rights, emphasized in the "Universal Declaration of the Human Rights," given to every Columbia student. 
It is a great guideline to have a steady bearing in life. I would love to continue supporting that document in all the films I will be involved with in the future.
It is a newer concept, relatively speaking, when we carefully examine the course of human history, but it is there, accepted in most parts of the world and needed as a guideline in our day and time probably more than ever.