Last Call for Applications: BRIDGE Program – Summer School of Journalism in Prague and Istanbul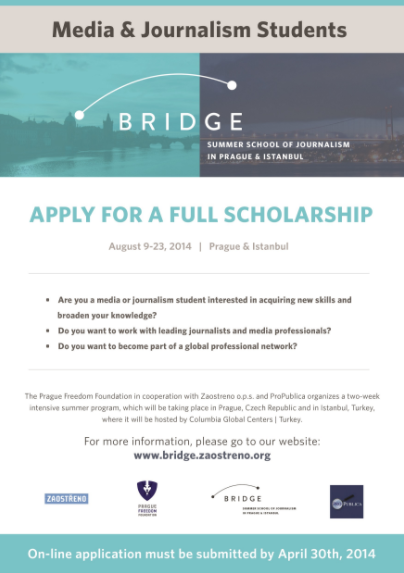 Apply by April 30 for Scholarships to Study Journalism in Istanbul and Prague!
The Prague Freedom Foundation, in cooperation with Zaostreno o.p.s. and Pro Publica, organizes a two-week intensive summer program, which will be hosted in Istanbul by Columbia Global Centers | Turkey and will be under the patronage of Charles University in the Czech Republic.
The program takes place between August 9-23, 2014 (August 9-16 in Prague, August 17-23 in Istanbul).
Confirmed guests and contributors are:
Anya Schiffrin
Anya Schiffrin is the director of the International Media, Advocacy and Communications specialization at Columbia University's School of International Affairs.  She teaches courses on media and development and innovation as well as the course  "Media, Human Rights and Social Change". Among other topics, she writes on journalism and development as well as the media in Africa and the extractive sector. Schiffrin spent 10 years working overseas as a journalist in Europe and Asia and was a Knight-Bagehot Fellow at Columbia University's Graduate School of Journalism in 1999-2000. Schiffrin is on the advisory board of the Open Society Foundation's Program on Independent Journalism and of Revenue Watch Institute.  Her forthcoming book is "Global Muckraking: 100 Years of Investigative Reporting from Around the World" (New Press 2014).
https://sipa.columbia.edu/faculty/anya-schiffrin
Aslı Tunç
Aslı Tunç is a Professor and Head of the Media School at Istanbul Bilgi University, Turkey. She has a BA in communication sciences from Istanbul University and an MA in film and television studies from Anadolu University. She received her Ph.D in communications at Temple University in Philadelphia in 2000. She has given lectures and seminars at universities in the USA, the UK and Greece on the freedom of expression and the media's changing role in Turkey and around the world. She has written numerous publications and country reports on the issues of democracy and media, social impacts of new media technologies, and media ownership structure in Turkey. Most recently, she is the co-author of a book in Turkish (Blogdan Al Haberi, Haber Blogları, Demokrasi ve Gazeteciliğin Geleceği Üzerine) on the impact of political blogs on the future of journalism.
http://www.bilgi.edu.tr/en/directory/people/asli-tunc
Kim Barker
Kim Barker has been a reporter at ProPublica since 2010, writing stories on campaign finance and the aftermath of the BP oil spill that have run in outlets such as The Washington Post, The Atlantic and Salon. She's specialized in "dark money," or social welfare nonprofits that do not report their donors for election ads. In late 2009 and early 2010, Barker was the Edward R. Murrow Press Fellow at the Council on Foreign Relations in New York, where she studied, wrote and lectured on Pakistan and Afghanistan and U.S. policy. She was the South Asia bureau chief for the Chicago Tribune from 2004 to 2009 and was based in New Delhi and Islamabad. At the Tribune, Barker covered major stories such as the assassination of former Prime Minister Benazir Bhutto and rising militancy in both Pakistan and Afghanistan. Her book about those years, "The Taliban Shuffle: Strange Days in Afghanistan and Pakistan," was published by Doubleday in March 2011.
https://www.propublica.org/site/author/kim_barker
Tracy Weber
Tracy Weber is a senior editor at ProPublica, previously a senior reporter covering health care issues. In collaboration with Charles Ornstein, Weber was a lead reporter on a series of articles in the Los Angeles Times titled "The Troubles at King/Drew" hospital that won the Pulitzer Prize for Public Service, the Robert F. Kennedy Journalism Award and the Sigma Delta Chi Award for public service in 2005. Her ProPublica series, with Charles Ornstein, "When Caregivers Harm: California's Unwatched Nurses" was a finalist for a 2010 Pulitzer Prize for Public Service. Weber reported for the Los Angeles Times from 1994 to 1999 and again beginning in 2003. Previous to her prize-winning collaborations with Ornstein, Weber spent a year reporting from inside California's juvenile court system, prompting reforms in state law. Earlier in her career she reported for the Los Angeles Herald Examiner and the Orange County Register.
https://www.propublica.org/site/author/tracy_weber

In order to apply please visit www.bridge.zaostreno.org
Deadline for applications is April 30, 2014