A Global Vision for Ending Pandemics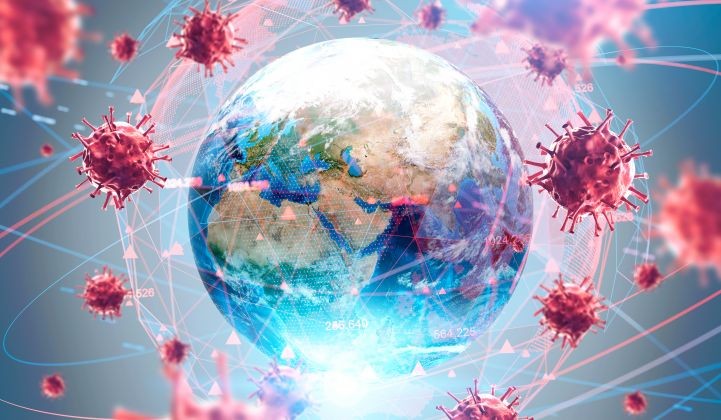 "The economic and human impact of Covid-19 will dwarf any outbreak that we have experienced so far" noted the celebrated virologist, Professor W. Ian Lipkin, Director of the Center for Infection and Immunity and John Snow Professor of Epidemiology at the Mailman School of Public Health at Columbia University, as he presented the Third Distinguished Yusuf Hamied Lecture typically held in India in a webinar organized by the Columbia Global Centers| Mumbai on July 8, 2020.
Professor Lipkin posited that infectious disease emergences and pandemics are not new and have been challenging human existence throughout recorded history. He shared his findings on the impact of Covid-19 garnered from outcomes of previous large-scale outbreaks such as SARS, Nipah, MERS, and Ebola. Calling Covid-19 a "drop in the bucket," he estimated that the total number of unknown viruses is close to a million and cited anthropogenic causes such as destruction of wildlife habitats, bushmeat consumption, the exotic pet trade, climate change, population migration, and international travel and trade as factors responsible for pathogen emergence.  
Presenting his vision for minimizing future outbreaks, Professor Lipkin called for a robust, well-coordinated global response. He emphasized the importance of rapid, cost-effective molecular techniques that allow broad-scale screening of samples, and early pathogen discovery and diagnosis, and shared information about his brainchild, GIDEoN (the Global Infectious Disease Epidemiology Network). GIDEoN is a public health initiative that aims to provide inexpensive, rapid tools for diagnosis discovery and surveillance of infectious diseases, identify and prioritize infectious agents based on pandemic risk, and share data in a manner that not only prevents biopiracy but also provides the foundation for producing immunological drugs and vaccines to prevent and treat infections. The initiative builds on an infrastructure developed over decades of research and service by integrating the resources and insights of well-established subject matter experts as well as academic and public health institutions to address the urgent challenge of emerging infectious diseases. It relies on multinational collaboration to keep a lid on pandemic threats that emerge and re-emerge with anthropogenic changes. While describing India's situation as 'devastating,' and recognizing that the country had lagged on the testing front not unlike the United States, Professor Lipkin identified India as a key partner in this global knowledge initiative for tackling pandemics. 
The presentation was followed by an interactive session with a sizable global audience, where Professor Lipkin pointed out the importance of testing and the urgent need of developing a vaccine. Stating that the Covid-19 crisis is not the last threat and may not be the worst we have faced so far, he called for efforts to change our patterns of living and interacting with our natural environment to avoid pandemics in the future. The webinar outlined the need for global planning and fundamental public health measures like testing, isolating and contact tracing to tackle the coronavirus and underscored that until a cure is found, the world will have to learn to live with this new reality that reveals dizzying levels of global vulnerability.