The Impact of Inequality on Health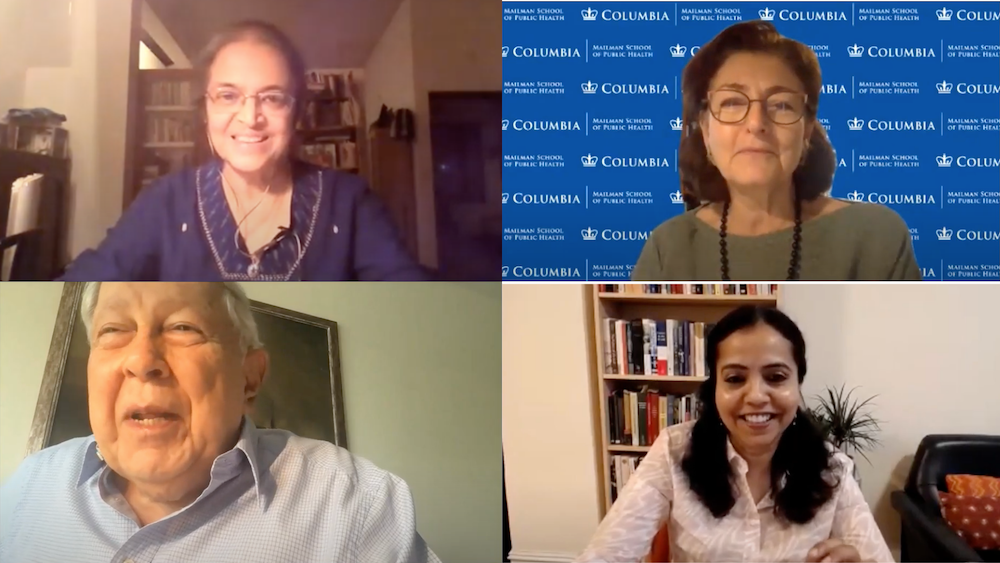 "The relationship between income and health is a gradient; every step up the occupational ladder, improves life expectancy," remarked Professor Gita Sen, Distinguished Professor and Director, Ramalingaswami Center for Equity and Social Determinants, Public Health Foundation of India, as she presented the Second Annual Yusuf Hamied Distinguished Lecture by a leading expert from India, a program that is part of a joint project between the Mailman School of Public Health and the Columbia Global Centers | Mumbai on October 23, 2020.
To illustrate how inequalities in health are produced and perpetuated, Professor Sen identified five interrelated clusters of evidence—income and wealth, social inequality, status inequality, psychosomatic factors, and epigenetic factors—that have a significant impact on the health of individuals. She noted that such inequalities impact life expectancy, infant mortality rates, mental health, nutritional status, and other social factors. Drawing from historical and contemporary public health data, Professor Sen also spoke about the widening 'income inequality' between countries but reiterated that a major concern was the impact of income inequality on vulnerability, access, and affordability to healthcare services within poorer countries. 
In addition to economic disparity, Professor Sen explained that the persistent problem of inequality in 'social contexts' was the second aspect of inequality influencing health outcomes. She argued that groups experiencing social exclusion and inequality based on gender, caste, race and religion, ethnicity, and sexual orientation suffer from a range of phenomena that adversely affect their lives and life chances. Professor Sen listed discrimination, othering, stigma, explicit and implicit biases of different kinds as well as physical, mental, and sexual abuse, violence, and the fear of violence as some of the problems that directly affected the health of individuals. Stressing on the nature of health inequalities, she also spoke about 'intersectionality,'—the interwoven nature of economic and social inequality and the way these inequalities mutually strengthen or weaken each other. 
Professor Sen identified 'status inequality' as a third and 'psychosomatic factors' as a fourth aspect of inequality stemming from stress and a person's life challenges. The fifth aspect of inequality that she alluded to was 'epigenetic factors,' the transmission of health disparities across generations through epigenetic inheritance. She advocated that tackling health inequalities should be the overarching goal of all countries around the world.  
Her talk was followed by an interactive session with the audience where she pointed out that health inequality distorts public health policy by ignoring health problems and blaming individuals at the bottom of the social hierarchy, and by focusing on individual behavior as a choice rather than as consequence of inequality. Professor Sen stated that it was extremely crucial for policymakers to pay attention to the problem of socioeconomic inequality in the fabric of the society. She concluded the session by recommending measures like increasing production and availability of generic drugs, utilizing women community health workers, investing in primary healthcare, and treating violence of women as a health concern to overcome the problems of health inequality posed by the current pandemic.