Paris Center Stories: Maria Paula Carvalho (JRN '13)
In her new book, Brazil: A Reconstruction, journalist Maria Paula Carvalho (JRN '13) shares insights on the current state of political and economic affairs in her home country.
February 13, 2018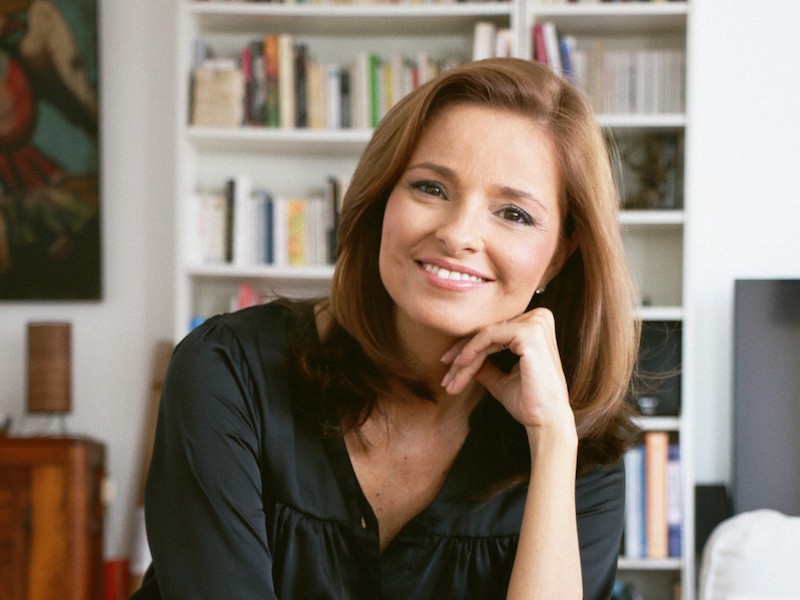 At the beginning of this century, many dared to believe that Brazil would reach its full potential and take its rightful place in a globalized world. Their beliefs seemed realistic for a while, but economic recession and ethical immaturity have prevailed over the more optimistic projections. The transformation of Brazil into a democracy with widely shared prosperity is still work in progress. And for a nation that was about to enter a new political, diplomatic and economic era, the future is now uncertain.
Brazil: A Reconstruction results from my experience in working towards my Master of Arts in Journalism at Columbia University, New York City. More than a technocratic compilation of data and opinions, it constitutes a synthesis of the main issues to which I have been dedicating my work as a journalist and researcher, using interviews and historical contextualization to present a general picture of Brazil's situation at the current moment.
From a distance, I had the opportunity to look deeply into my own country. The MA Program gave me confidence and a desire to look more closely at the socio-economics and politics of Brazil. The biggest country in South America had already become a global player in the realm of international affairs, business, culture and tourism. With the World Cup (2014) and the Olympics (2016) in mind, interest in the country was only expected to keep growing. However, repeated failures of governance provoked a sense of political disillusion, culminating in a series of grave corruption scandals that have outraged the people and driven them to the streets.
Despite the success in reducing poverty over the first decade of the century, the gap between the rich and the poor remains at alarmingly high levels. Rio de Janeiro, the Olympic city, is still a portrait of the inequality present throughout the country. The favelas have grown up right next to very exclusive areas. Worse still, projects meant to provide services and infrastructure to Brazilian citizens ended up as opportunities for siphoning off large amounts of money. The book tells a dramatic story of Brazilian success in achieving a higher rate of economic growth in the Lula years, and then the progressive sharp down turn under Dilma Rousseff's term.  That led to her impeachment, and leadership passed to Vice-president Michel Temer.
More transparency in the delivery of vital services should be encouraged in Brazil. Otherwise, any economic or social achievements may be jeopardized by the persistent inability to deal with corruption and its effects on public policies. Specialists argue that the success of the battle against those serious transgressions will determine whether Brazil completes its transformation from a large sized but moderately productive country into one of the world's economic superstars.
Brazil had gone from being a hyperinflationary disaster to having one of the biggest effective economies in the world. Poverty fell from 36% of the population to 10% between 1990 and 2015, down 72.7%, according to data processed by FGV. Income grew. Considering the period between 2003 and 2014, discounting inflation, the minimum wage increased 72.31% according to Dieese. However, the contrast over two decades is striking. Brazil's growth rate has decelerated steadily since the end of 2014. GDP contracted by 3.8 in 2015, and 3.6 in 2016. The unemployment rate had grown in an alarming way.
Which Brazil will prevail: the Brazil of the Olympic dreams or the Brazil of its shantytowns, economic troubles and corruption scandals that sap the country's strength? Tried and true economic policy anywhere in the world would suggest that Brazil's growth needs to be based on higher investment and productivity gains. The country also could benefit from more integration in international trade agreements. Brazil requires an increase in domestic savings as well. At its current level of around 15 percent, the number is well below those found in almost all other Latin American countries.
However, structural reforms, cracking down on corruption, diminishing the Brazilian bureaucracy, rooting out patronage, have not yet had the effect that people have hoped for. Corruption has deeply permeated political parties and state-owned companies, metamorphizing itself into a complex, systematic, and seemingly invincible "method of governmental action and administrative conduct", as described in the Lava Jato judicial investigation.  Federal police, prosecutors and judges have uncovered a multibillion-dollar kickback and bribery scandal at Petrobras. Contracts were inflated so that up to 3% of funds could be diverted to political parties and politicians. This ended tragically, with the indictment and conviction of Lula himself.
Alongside the mensalão, revealed in 2005, – a bribery scheme in the National Congress – the current cases have prompted an internal debate and have raised other major questions: Are Brazilian politics finally managing to trade a tradition of impunity for one of accountability? And is Brazilian culture changing along with it from one of indifference and cynicism to a new form of democratic engagement?
Brazil: A Reconstruction examines the extent to which "public mischief" contributes to a culture of impunity in the country. My work consists of analyzing the anti-corruption movement, and the impact of the recent convictions of top government officials and businessmen on the political landscape in Brazil. The bribery convictions rendered in the emblematic court cases mentioned above are proof that Brazil's democratic institutions, while imperfect, have matured. For the current investigations and trials to become a turning point and not an exceptional event, experts agree that the fatalistic attitude of impunity in Brazilian society must change along with its institutions. In Brazil it is commonly said that good politicians are those who "steal but get things done." However, Brazilians are daring to hope that the old ways of doing politics may finally be changing, after decades of scandals in which the perpetrators seemed to act with impunity.
Erected as a symbol of progress and modernity, the capital, Brasília, impresses its visitors, and would seem to be the right place to investigate the direction Brazil is taking. Without strong popular pressure, there would be little motivation for the executive or legislative branches of government to aggressively tackle corruption. Hopefully, citizens are shedding their traditional apathy that corruption thrives on. Advances in education, declining poverty, and increased civic consciousness will come to mean that Brazilians are more aware of corruption and less dependent on government favors, and more demanding of political reforms.
"Sunlight is the best disinfectant." This famous sentence, said almost a century ago by the American Supreme Court Judge Louis Brandeis (1856-1941), referring to the need for transparency in the US financial system, has been used as an inspiration in Brazil. It also symbolizes the transformation happening in the country with regards to the progressive openness of the government. In Brazil's maturing democracy many different actors in and out of government are playing a dynamic role in monitoring, investigating, and punishing corruption. The Supreme Court and independent public prosecutors serving as checks and balances on Executive Power, as envisaged in Brazil's 1988 post-dictatorship Federal Constitution, finally seems to be working.
To make the hopes come true of generations of Brazilians, the parasitic behaviors of a corrupt few must be fought by the strong participatory action of civilian society, which requires the population to organize itself and demand proper governance. Nonetheless, despite the recent scandals in Brazilian politics, concerns about corruption do not seem to be a factor in Brazil's elections. Voter's attitudes seem to be alarmingly complacent. Furthermore, with rare exceptions, people who took to the streets during the massive demonstrations had no political affiliation, had not belonged to any political group, had not recognized a leader and often organized themselves using social media. For the moment, the streets symbolize division rather than unity.  
Will all the above social and political action mentioned above have real and meaningful consequences? We would have to be able to see into the future. But we can guess that it will be positive, since there seems to be a new attitude. There is a general warning for the primary actors in society, politicians and businessmen: be smarter! Because the institutions are functioning and there is a normative framework that applies to everyone, without distinction. Along with the above considerations, note also that younger leaders are necessary to build political consensus.  
To conclude on a positive note, and with reasons to be optimistic: Brazil has democratic elections, parties alternating power, a market economy, respect for private property, freedom of expression and religion, an independent press, and a strong independent judiciary system. Many Brazilians sense that their continent-sized country is ready to realize its potential as a world economic power and that the old way of doing business, based on personal connections and under-the-table agreements—and that was holding the country back—is now being dealt with, and that a brighter, sustainable future is indeed possible.
Watch the video of the Maria Paula Carvalho's presentation at the cross-center event co-hosted by the Rio Center: