Protecting Migrants and Refugees -- Terra Incognita and the Justice Gap
For people leaving the Mediterranean, the likelihood of dying is now much higher than what it was in 2016. This is according to the Director of Global Health in Emergency Medicine at New York-Presbyterian and Columbia University Medical Center, Craig Spencer, MD. Spencer, coordinated Doctors Without Borders' (MSF) national epidemiological response in Guinea during the Ebola outbreak and has provided medical care onboard a MSF medical search and rescue boat in the Mediterranean.
May 06, 2019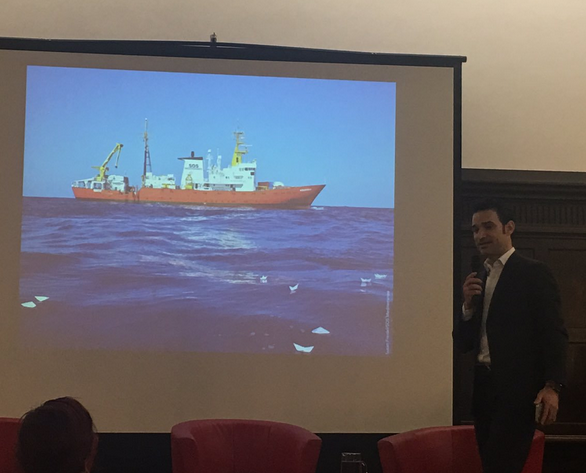 Joining Spencer in a round table discussion on "Protecting migrants and refugees, terra incognita and the justice gap" was Terry McGovern, the Director of the Program on Global Health Justice and Governance at the Columbia University's Mailman School of Public Health, and Dadan Kardiana, project coordinator of the EHESP's Training for Migration and Health (TRAIN4M&H).
            The round table and talks by Spencer, McGovern, and Kardiana highlighted the need for urgent discussion on how to protect and help migrants and refugees. The European migration crisis, generally said to have reached a peak for the years 2014, 2015, and 2016, has resulted in the current lack of discussion on migration and refugees in the West. Whether this is due to a cultural disinterest driven by the peak of the crisis three years ago in 2016 or a lack of coverage and discussion on migration from journalists and politicians alike doesn't matter. Instead, as all three of the talks from the round table's speakers emphasized, what matters is that, just because the risks refugees face are not in the news everyday, there is still a refugee crisis and there are still migrants desperately seeking refuge and asylum who need help.
            Spencer spoke of his efforts helping refugees on boats in the Mediterranean sea, discussing both the safety issues migrants face when fleeing their countries as well as the legal and political problems faced when entering new land or waters. The pictures we see of migrant boats often seem only full of men, said Spencer, but there are women on board in the inside of the boat; men sit on the outside because they think it will protect the women. However, the inside of the boat can often be more dangerous due to the lack of oxygen and space to move. What's more, Spencer noted that sexual violence against women is the biggest issue when migrants are on their attempt to reach safety.
            Spencer continued to relate highly personal and detailed examples of what migrants are faced with on and offshore. The most important task is to get the migrants off of their unsafe boats and onto the medical search and rescue boat, which houses a makeshift hospital on board. Once onboard, the immediate task is to address people's current health. However, it's offboard on land where more problems arise. Spencer and his team have to start working under that country's law and end the close relationships they had created with the refugees as they are taken in by the country's refugee volunteers and crisis helpers. The politics of certain countries often affects the success in helping migrants. Spencer gave an example in which EU-funded Libyan coast guards shot at Spencer's rescue boat in an attempt to keep them out of Turkey and making their way to the EU.
Kardiana addressed the issue of a lack of trained professionals experienced enough to help migrants once on land in his talk, where Kardiana discussed how his TRAIN4M&H project aims to develop the skills of first-line professionals working with migrants and refugees in relation to health and safety.
Human rights lawyer Terry McGovern, JD also addressed the gaps in injustice that surround every aspect of what migrants and refugees go through in fighting for their and their family's safety. Drawing from her own experience working with migrants and refugees, McGovern stated that the US has participated in the dehumanisation of migrants and refugees and that, essentially, the world has decided to violate every promise made after World War II in relation to human rights.
Migrants and refugees are left feeling displaced and destabilized due to the lack of help and integration provided to them once on land. Moreover, as more and more migrants and refugees flee because of climate change that the West has contributed to but is failing to help solve, migrants are left without a language to describe their experience as climate refugees and lawyers are left without a language to provide protection to the refugees of climate change.
McGovern also highlighted the complexities in the humanitarian system. Whilst international humanitarian law and the humanitarian system is built on providing for people, the reality is very different as, as Spencer also discussed, migrants, refugees and their lawyers are subject to the law of the country they're in. McGovern stated that this lack of internationally recognised basic rights for refugees means there is a lack of accountability in terms of who is to help integrate migrants and refugees into society. Focusing on her work with women migrants and refugees, McGovern used the fact that in some countries abortions are illegal, and therefore the women would have to break the law in order to terminate a potentially dangerous pregnancy.
Whilst there's not much accurate data on migrants and refugees, McGovern highlighted that what is known is that 32 million of the global 68.5 million humans who are displaced are women of a reproductive age. 61% of maternal deaths occur in fragile states. One of the ways to solve this issue of women being abused, becoming pregnant, and not being able to receive abortion or maternal care, McGovern believes, is through education. Whilst Doctors without Borders attempt to provide access to abortion, McGovern wonders if there are ways to provide migrant women and young girls access to education and to promote reproductive health in crisis situations.
To conclude her talk, McGovern referenced a Lancet Journal study that studied the resilience of migrants and how there is so much to learn that is positive. But, of course, this study went underlooked as it did not fit the narrative of migrants in the collective Western conscious. For the future, McGovern hoped that people realised we can learn from migrants just as much as we can and should help them.