School of Art's Ellen Dennis and Chilean Theater Students Spent two Weeks on a Field Trip around Chile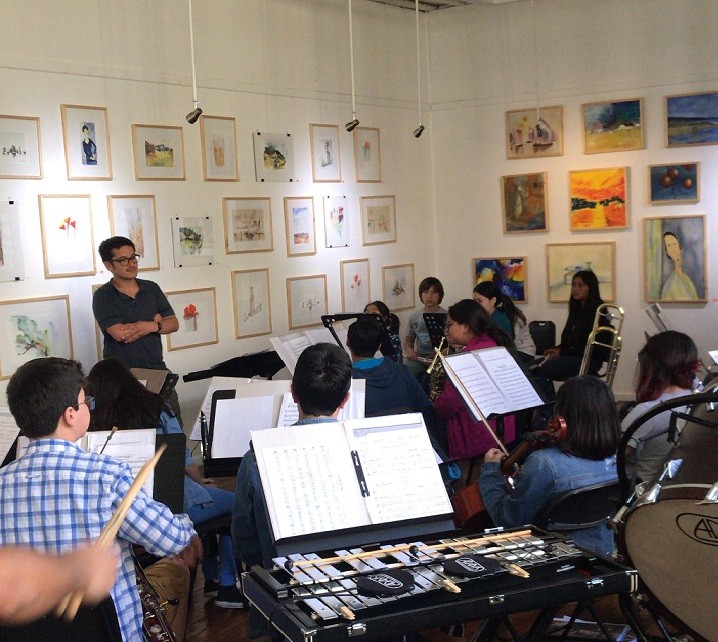 Columbia University adjunct professor Ellen Dennis, together with Paloma Estévez and Ricardo Neumann, Chilean students of the MFA Theatre Management and Producing Program in the School of the Arts, visited Chile this January on a busy two-week schedule. During the first week of the trip, sponsored by the Chilean NGO Fundación para el Progreso (FPP), Ellen, Paloma and Ricardo travelled through the south of Chile where they met with the Executive and Artistic Directors of Teatro Regional del Bio Bio, Corporación de Amigos de Panguipulli, and Teatro del Lago in Frutillar. "This was a great opportunity to introduce our professor to the national theatrical landscape. Site visits outside of Santiago were essential for us, as cultural decentralization is an important challenge for our country," says Ricardo, Columbia University MFA student and former cultural director at FPP.
The second week, the group attended Platea '19, a professional platform for international arts presenters who gathered in Santiago to participate in the Santiago a Mil Festival. "Attending the Festival with our professor provided us with extraordinary networking opportunities, and gave us the chance to discuss the state of the theater in Chile and South America with arts presenters in the international community, our future colleagues," added Paloma. During the week, they met with the Directors of Teatro Container and Parque Cultural Ex-Cárcel in Valparaíso and Teatro Municipal de Las Condes and Corpartes in Santiago. Through this "theatre tour" of Chile, the students introduced their professor to different cultural funding and management schemes, and the diverse ways in which theaters design their programming to serve their local context. 

"This was a trip of a lifetime," says Ellen. "My professional colleagues so valued the opportunity to experience Santiago a Mil performances with my students who offered a special prism - their personal insights into the history of Chile and the development of its contemporary theater and its practices in the country. My students will undoubtedly take their places as cultural leaders of Chile. Together, we profited from meetings with theater directors across the beautiful Lake District and in Santiago, Concepción and Valparaiso, and from invigorating conversation throughout our travels. We three hope to expand this initiative for students and professors in the years ahead."

Ellen wishes to give special thanks to FPP, the Association for Performing Arts Professionals and to Fundación Teatro a Mil (FITAM) for their support of our visit to Santiago.