Student Spotlight: Jonathan Navia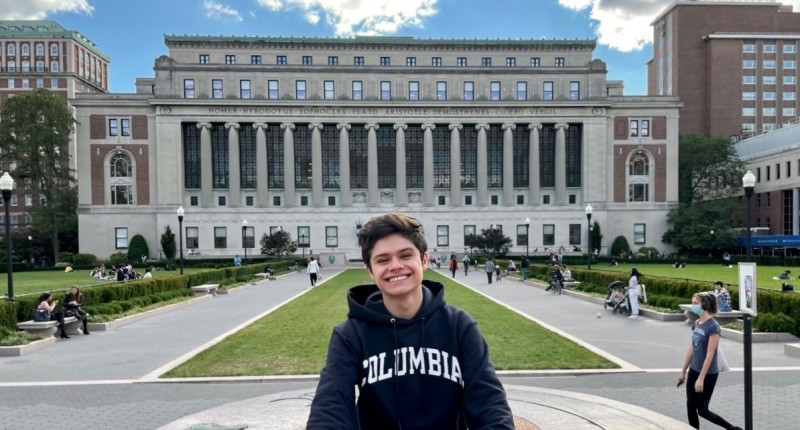 Jonathan Navia, 19, has been a fan of science since his early childhood. Growing up he would participate in every contest, fair, and summer school he could. Last year he graduated at the top of his class from his high school located in the port city of San Antonio in central Chile, and through the Fondos de Oportunidad initiative of U.S. Department of State network Education USA, he applied to Columbia University. Not only he was admitted, he was granted a nearly full scholarship. In early September he moved to New York, where he is now a freshman at Columbia, looking to major in Earth and Environmental Engineering. The following is his story.
What moved you to study in the United States?
First of all, the flexibility that universities offer, since you can take classes that are not necessarily related to your career. For example, I could be interested in pursuing a career in Astronomy, but still take a course in Chinese, or any other topic that I could be interested in. This possibility caught my attention because in Chile that doesn't happen. Generally speaking, one chooses a degree and can only take the classes that are within the curriculum of that program.
I also liked the fact that in most US universities, students can declare their major at the end of their second year, which I felt would allow me to clearly define my interests and my future career path. Additionally, US institutions offer a wide array of possibilities: you can pursue two majors at the same time, or opt for a major and a minor, there are also many opportunities to intern or research within the university, in other parts of the country, or abroad.
Lastly, I chose the United States because I started learning English from a very young age, so the idea of living in an English-speaking country, especially one as diverse as the US, was really exciting to me.
Why did you choose Columbia?
One of the main reasons why I applied to Columbia was its location. Coming from a small town, I was always drawn to the idea of ​​living in a city as large and cosmopolitan as New York, filled with opportunities, both academically and personally.
Another main reason was Columbia's Core Curriculum. All engineering undergraduate students must take a certain number of humanities courses, which I feel allows students to explore areas they would probably never approach if not for this model. I think Columbia offers the unique possibility of becoming an engineer for humanity, as it allows students to combine their technical, liberal arts and research skills to solve the world's most pressing challenges.
Lastly, what also drew me to Columbia was the number of resources available to students, especially international ones. You have the opportunity and resources to pursue entrepreneurship and socially responsible engineering, along with over a dozen minors in the liberal arts. Additionally, Columbia's School of Engineering and Applied Sciences faculty are at the frontiers of various disciplines, allowing students to conduct hands-on lab work with them through the hundreds of research opportunities available each year.
What do you expect from your life in New York City as an international student?
Studying abroad has always been one of my dreams and for a long time I have been attracted to the opportunity to immerse myself in a completely different culture. I look forward to exploring the city and all of the attractions and opportunities it has to offer. I also hope to grow on a personal level, become more independent, and learn as much as I can from this unique experience.