Understanding Religious Pluralism in India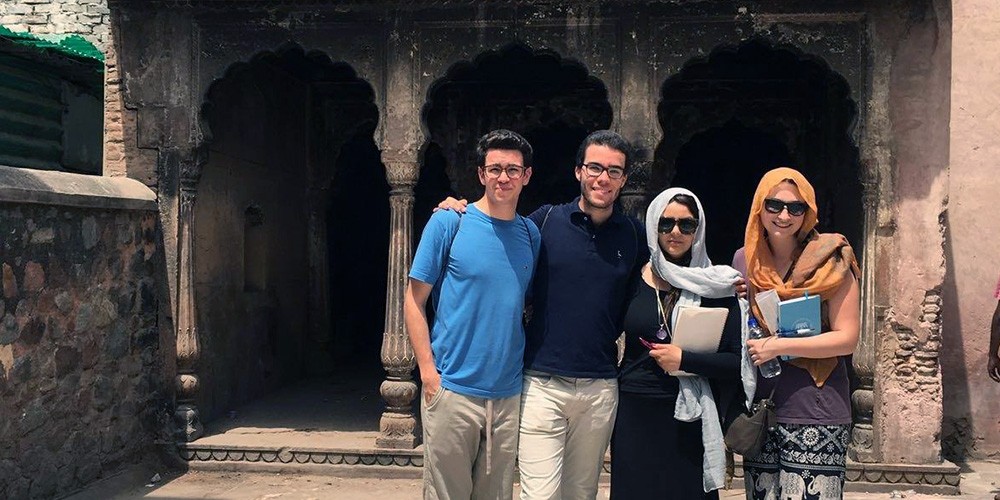 India is a multi-cultural and a diverse nation with a flourishing history of pluralism that has been thriving for thousands of years.  Among the many faiths represented here are Hinduism, Islam, Christianity, Sikhism, Buddhism, and Jainism. As the world's largest democracy, India presents a unique opportunity to understand a long and multifaceted heritage of religious diversity.  With this reality in mind, Columbia Global Centers | Mumbai hosted University Chaplain, Jewelnel Davis, and four Kraft Global Fellows from May 24-June 3 for an intensive field study on Religious Pluralism in India. Through visits to important sacred sites and exhibitions, and interactions with experts, the team learned about the history, practices and contemporary issues related to different religions in India and explored the relationship between religious communities.
The time spent in the capital city of New Delhi allowed the fellows to understand the importance of diversity as a founding principle of Indian democracy.  From delving into the growth of ancient religions like Islam and Sufi culture, Sikhism and Zoroastrianism, as well as being introduced to the inception of the newer Baha'i faith in India, the fellows steadily acquainted themselves with the plural nature of coexistence in India as well as its challenges.  Jordana Fremed, a senior undergraduate student, felt that the fellowship experience will continue to shape her for years to come and observed that "This experience gave me the opportunity to immerse myself in cultures different from my own, and to engage with and learn about new religions that I may not have otherwise explored."
The team next visited Mumbai, regarded as India's most cosmopolitan city. They undertook walking tours to experience the city's deep economic contradictions and its constantly changing nature.  Walks through neighbourhoods such as Dharavi, Colaba, and Fort acquainted the group with the various communities that have contributed to the city's present formation. Naresh Fernandes, Editor of Scroll Magazine and a Columbia Journalism school alumnus, walked the group through Mumbai's Bandra area, known for its Portuguese styled basilicas and bustling Indo-Christian cultural scene.
To understand how religion intersects with other aspects of life, a day long visit to ISKON's Eco Village showcasing the incorporation of Hindu practices into sustainable lifestyles was followed by attending a prayer service at the Siddhivinayak temple, one of Mumbai's busiest and richest Hindu temples. A visit to one of Mumbai's archaeological marvels, the Buddhist Kanheri caves with rock-cut monuments that have been traced to the second century BC, was complemented with a trip to the memorial of Dr. Ambedkar, one of Columbia Law School's prominent alumni and a champion of ending religious and social discrimination on the basis of caste.   
Diego Filiu, one of the fellows, noted that "religion in India extends far beyond the realm of temples, mosques and mausoleums to reach deep within both individual identities and forms of social organizations. Religion underpins both the private existences of Indians as well as the public life of the nation. A French humanist deeply influenced by my particular country's hands-off approach to religion, I was able, through daily site visits and conversations, to re-evaluate and put my own experience into perspective. In a nutshell, I was challenged as rarely before."