A Year in Review: 2018 at the Paris Center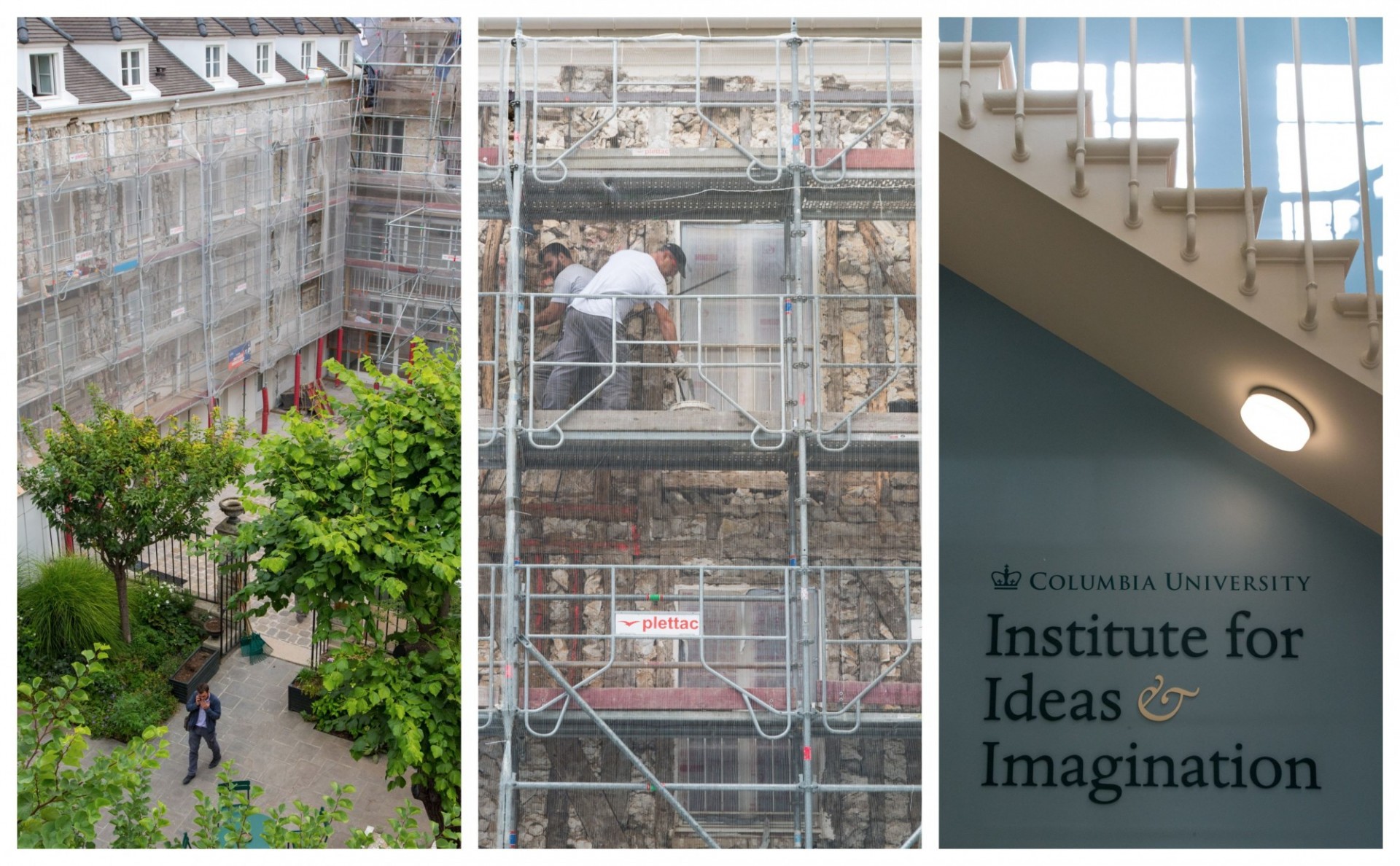 With the establishment of Columbia Global Centers l Paris at Reid Hall, a new era has dawned for the facilities and its academic and programming activities. The space had never witnessed so much remodeling since it was renovated in 1929. Not only was an entire building gutted and repurposed in order to host the Institute for Ideas and Imagination, but the remaining buildings on the property received a significant facelift. Besides the new roof and double-glazed windows with blinds, the very structure of the historic Chevreuse building was reinforced and the facades were restored and painted. Classrooms also received a much-needed upgrade and were fully equipped with state-of-the-art technology and modern furnishing. In addition, the garden area was redesigned with improved lighting, planters, and paving. And despite these much-needed improvements, the place still maintains its original spirit and 18th-century charm.
THE INSTITUTE
After a five-year planning and implementation process led by Mark Mazower, Ira D. Wallach Professor of History at Columbia, and Paul LeClerc, Director of Columbia Global Centers l Paris, and a yearlong renovation of the building at the back of the Reid Hall's garden, the Institute for Ideas and Imagination opened its doors in September 2018 to its first cohort of fifteen Fellows. Comprising seven professors from Columbia University and eight artists, writers, and scholars from India, Nigeria, France, Estonia, China, Malaysia, and Syria, this extraordinary community of thinkers and creators is spending the academic year 2018-19 in Paris, each one working on an individual project in a variety of disciplines – African Diaspora studies, dance, musical composition, sound art, philosophy, French and Africana studies memoir, literature, jazz studies, novels, and translation.
On November 12, 2018, Lee Bollinger, President of Columbia University, together with Paul LeClerc and Mark Mazower, Director of the Institute, celebrated the official inauguration of Columbia's Institute for Ideas and Imagination both at Reid Hall and the Bibliothèque nationale de France (BnF). Events included a performance by the "Les Arts Florissants" led by William Christie, and a conversation between the South-African artist William Kentridge and Rosalind C. Morris, professor of Anthropology at Columbia. The celebration ended with a dinner in the magnificently restored Salle Labrouste at the historic site of the BnF rue de Richelieu, attended by over 150 guests from leading institutions in Europe. Notable speakers included Frédérique Vidal, French minister of Higher Education, Research, and Innovation, Elizabeth Alexander, American poet and President of the Andrew W. Mellon Foundation, and Christina Lambropoulou, Chief Financial Officer of the Stavros Niarchos Foundation.
Headed by Mark Mazower, the purpose of the Institute is to bring together scholars from across disciplines with artists from around the world, to question the established ways in which knowledge is defined, produced, and taught. They receive a stipend, an office, and have privileged access to the collections of the BnF and other libraries and archival centers in Paris. Each Fellow presents his or her work as part of the series "Les mercredis de l'Institut" (Wednesdays at the Institute), a program that is free and open to the public. In addition to these events, the Institute is fostering close ties with such partners as the BnF, Cité des arts, Institut d'études avancées, École des Hautes Études en Sciences Sociales (EHESS), Orsay Museum, the Alliance Program, and Paris Sciences et Lettres (PSL University). Susan Boynton, Professor of Music and Musical History at Columbia, was appointed the Institute's first Resident Faculty Director. The Institute's administrative team includes Marie d'Origny, Administrative Director, Eve Grinstead, Operations Coordinator, and Grant Rosenberg, Research and Programs Officer.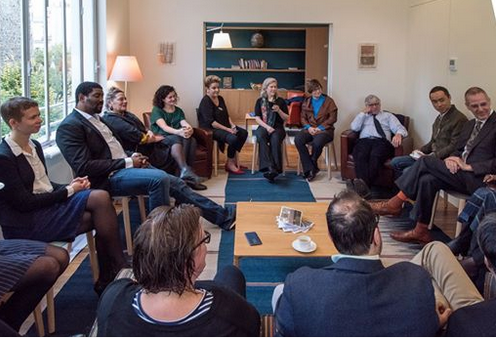 One couldn't have dreamed a more collegial and brilliant first cohort of Fellows: within days of their arrivals, they settled in, made the place their home, developed strong friendships, supportive of each other's projects and enthusiastic about making the Institute come alive. They are making essential contributions to the life of the Institute and of CGC – one has created a South East Asian Film Festival as part of the Institute's public program, others are giving concerts and taking part in readings with the study abroad programs at Reid Hall, and one of our Fellows is even offering a dance class, open to staff, students, professors, and Fellows. The Institute is also finding its place in the Columbia community at Reid Hall, as it works closely with the Columbia Global Centers l Paris public Programs, the Columbia Undergraduate Program in Paris, and the Masters in History and Literature program. These exciting projects promise to put the Institute on the map, both in Paris and beyond, as an original and open participant in a vibrant intellectual and artistic landscape.
GLOBAL CENTERS PUBLIC PROGRAMMING
"Borderline" was the over-arching theme for the Paris Center's fall 2018 programming.  Our conferences, lectures, concerts, and performances sought to explore and challenge established limits and categories, be they geographic, corporeal, psychic, ethnic, or political.  Here are three of the season's highlights.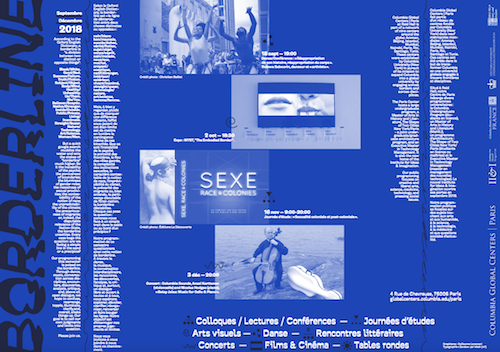 We began with a dance performance featuring Bolewa Sabourin, a team member of 2018 Nobel peace prize recipient Dr. Daniel Mukwege at the Fondation Panzi in Bukavu.  Using traditional Congolese dance as a therapeutic tool, Sabourin helps women to reappropriate their bodies, overcoming the sexual and psychic trauma they have endured as a result of the on-going war in the DRC.  The dance performance was followed by an all-women panel comprised of two hip-hop choreographers, Bintou Dembélé and Sandra Sainte Rose Fanchine, Mathilde Delespine, a dancer and mid-wife at La Maison des femmes, one of the Paris Center's key partners, and Nora Philippe, curator, writer, and filmmaker.  As a follow-up to this event, we invited Sabourin along with Balla Fofana, staff journalist at France's daily newspaper Libération, to discuss their newly published book La rage de vivre. Kaiama Glover, Associate Professor of French and Africana Studies at Barnard College, moderated a discussed evoking social questions of education, race, inequality, and politics through the prism of Sabourin's journey. In early spring 2019, we will be hosting Sabourin and Fofana in New York for a series of events at Columbia and local New York high schools.
In mid-October, we helped sponsor an on-campus lecture featuring the Turkish playwright Sedef Ecer.  Laurie Postlewate, Senior Lecturer in the French Department at Barnard College, teamed up with the Paris Center along with the Barnard Center for Translation Studies, the Institute for Comparative Literature and Society, and the New York Public Library to organize a talk entitled "Je suis une personne traduite/I am a translated person."  During the event, Ecer discussed the role of translation in her plays, as well her own work as a translator.  In addition to the talk, Barnard/Columbia students were invited to attend any part of the rehearsal/translation workshops that were in preparation for the staged reading of Ecer's recent play "e-smuggler.com" performed by the Voyage Theater Company at the NYPL.  Our collaboration with the Barnard Center for Translation Studies, established in 2016, will continue in 2019 when the Paris Center will host the the second iteration of Laurie Postelwate's summer course, co-organized with the prestigious Ecole nationale supérieure, on Theater and Translation. 
We ended 2018 with an international conference sponsored in partnership with the Center for the Study of Social Difference (CSSD), EHESS, and PSL University entitled "Queer Theory: Here, There, and Elsewhere."  Professors Jack Halberstam (English), Camille Robcis (History), Elizabeth Ladenson (French) and Gil Hochberg (MESAAS) convened scholars from around Europe to discuss the state of queer theory, race, nation and immigration in France, and to counter the perception of queer theory as a foreign import, a vector of American imperialism transmitting ideas that are fundamentally antithetic to French political culture.
"Uncharted/Inédit" will be the Paris Center's new theme for spring 2019.  We will shift our gaze beyond borders: to territories dawning on the horizon, to positions that have yet to be fully mapped, to subjects that remain un or under discussed, to improbable points of intersection.
COLUMBIA UNDERGRADUATE PROGRAMS
In Fall 2018, the Columbia Undergraduate Program in Paris was pleased to welcome 25 new students from six different universities (Bard, Barnard College, Columbia University, Harvard, Johns Hopkins, University of Pennsylvania). The diversity of the student body combined with small size of the program created a very strong bond among the students who spent much of their time discovering Paris and France together as a group. They also made new French friends though a buddy program called the French Folles Soirées. Thanks to a series of 4-5 meetups, students encountered French students and developed a different appreciation and understanding of France through conversations with their peers. Many continued seeing their new French friends after the period of organized activities, and have developed meaningful relationships that will last beyond the program.
In terms of academics, the program was pleased to welcome Professor Mariusz Kozak, Assistant Professor at Columbia University. Professor Kozak taught Masterpieces of Western Music to a dedicated group of students who enjoyed their curricular outings to concerts as part of their academic training. Students in his course also attended the Columbia Sounds Concert series, where they learned to develop their ear for contemporary music with compositions written by, or played by composers of Columbia's prestigious music department. Professor Kozak gave two public talks while in Paris. One at the Sorbonne, for the celebration of the 15 years of existence of the Alliance, and one at the Columbia Global Centers, where he presented a synthesis of his most recent research on why we move to music. Three other faculty members gave public presentations in the Fall. Nicolas Baudouin, who teaches a course entitled "Issues in Nineteenth Century Art" presented his own photographic work on post-photography. Students in Professor Marc Cerisuelo's film class attended a lively and moving discussion between Marc Cerisuelo and film Director, Robin Campillo on his award-winning film "120 battements par minute" (Grand Prix Cannes Film Festival, 2018). Finally, the Columbia Global Center celebrated the publication of Christelle Taraud's provocative and monumental work Sexe, race et colonies (ed. La Découverte, 2018). Her research deals with sexual domination in colonial territories on a global scale. Based on some of her current research, Christelle Taraud will be teaching a new course in the program in the Spring on violence by and against women.
The Fall semester also included the bi-annual career fair, which presented students with different post-graduate opportunities open to them in France, whether in higher education or in a professional field. Career Fair panelists included representatives from the École Normale Supérieure, Sciences Po, the Fulbright Foundation, the OECD and Google. Students seemed particularly drawn to an engaging presentation by a former student who discussed his experiences working as an English teacher for the Teaching Assistant Program in France (TAPIF).
Finally, the semester ended with an impressive student Symposium on Europe from 1918-2018. All presentations were led by students and based on the work they had done across all of their Reid Hall courses on that particular topic. Presentations ranged from the visual arts to politics, culture, history, and environmental policy. It was a great moment of intellectual bonding for the entire program between students, faculty, and staff. It was also a wonderful way of seeing the students' growth curve between the moment they arrived in the program and the moment they left.