Learning About Religion in India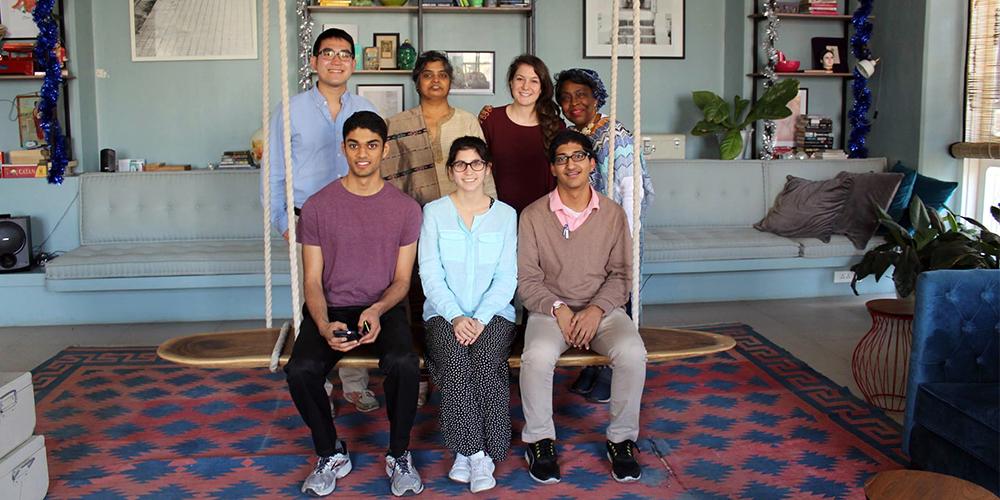 Building upon the Center's goal of advancing global education by designing learning programs about India, the spring cohort of the Kraft Global Fellows visited Mumbai, New Delhi, and Agra from January 4 - 15, 2017, for an intensive field study on Religious Pluralism. The group of five students was led by Jewelnel Davis, University Chaplain.
Through visits to prominent sacred sites, curated walks, and interactions with academic and sector experts, the group learned about the history, practices and contemporary issues related to different religions in India and the relations between diverse religious communities.
The group started its study in Mumbai with an introductory lecture on religions of India by Vice Principal and Professor of Philosophy at Wilson College, Shehernaz Nalwalla. Lectures on the philosophy of Hinduism and Buddhism by Professors Priya Vaidya of University of Mumbai and Supriya Rai, Head of Somaiya College's Buddhist Studies Department, were complimented by visits to Hindu shrines such as ISKCON, Babulnath temple, Siddhivinayak temple, and Chaityabhoomi- a place of worship for Dalit Buddhists in Mumbai. Naresh Fernandes, Editor of Scroll Magazine and a Columbia Journalism School alumnus, spoke to the group about Catholicism in Mumbai and walked them through the Bandra area, known for its Portuguese styled basilicas and a bustling Christian cultural scene.
A curated tour of the Dharavi area and a talk by Dr. Anita Patil-Deshmukh, Executive Director of PUKAR, acquainted the group with the various migrant communities that have contributed their religious and cultural practices to the metropolis. As a requirement of the program, the fellows had to reflect on their observations and learnings at the end of each day. The group also visited one of Mumbai's few synagogues, the Keneseth Eliyahoo Synagogue and met with Rabbi Blum at Chabad House to find out more about the city's Jewish heritage.
The team next visited the capital city of New Delhi to deepen its understanding of diversity in India by learning about Islam, Sikhism, and Zoroastrianism. The group met with the Director of Parzor Foundation, Dr. Shernaz Cama, to learn about the Zoroastrian community's history and presence in India. The influence of religion on architecture is visible in most buildings of New Delhi, including the Rashtrapati Bhavan, the residence of the President of India. Through visits to the iconic Taj Mahal in Agra and the Baha'I or Lotus temple in New Delhi, the fellows were able to understand this further.