The Paris Center Announces Fall 2017 Programming
Focusing on the theme of resistance, our Fall 2017 programs will begin in September and run through mid-December. We invite all interested members of the public to attend. We're looking forward to very engaging and thought-provoking semester.
September 18, 2017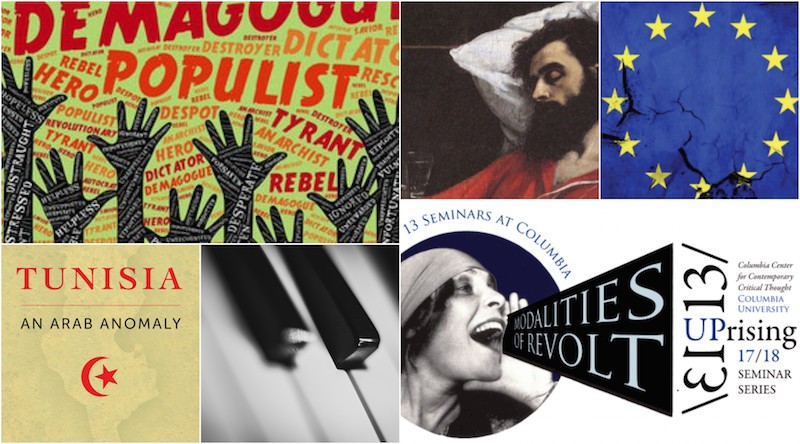 SEPTEMBER
Critical Dialogues in Science, Medicine, Technology and Society
"Frontiers of  Condensed Matter Physics": Every Friday this fall, the Paris Center will host a series of lectures in condensed matter physics led by international leaders in the field. Given partly as a credit-granting course for graduate students, the "Frontiers of Condensed Matter Physics" lectures are open to undergraduates, postdoctoral students and senior researchers. In English.
Sept. 8 – Dec. 15, 2017
Art Exhibition
"Onyriques": An exhibition of photographs by Brune Biebuyck who transforms images of physical imperfections in the urban landscape captured by her iPhone into a panoply of colorful characters nourished by oral tradition and African art. In conjunction with FICEP and the Semaine des cultures étrangères.
Sept. 18-27, 2017
Columbia Sounds Concert Series
"Impressionisms and Expressionisms": The Columbia Sounds Concert Series continues for the third season with a by Ensemble Infuse presenting works by younger Columbia-affiliated composers alongside one of the canonical representations of post-impressionist music.
Sept. 25, 2017, 8pm
Books and authors
"La Question Némirovsky": Susan Suleiman, Professor Emeritus of French and Comparative Literature at Harvard University, will present her latest work on author Irène Nemirovsky, who created a brilliant career as a novelist in the 1930s, only to have her life cut short: a "foreign Jew" in France, she was deported in 1942 and died in Auschwitz. In 2004, Suite française, Némirovsky's posthumous novel, became an international best seller; some critics, however, condemned her as a "self-hating Jew" whose earlier works were rife with anti-Semitic stereotypes. Némirovsky's Jewish works, Suleiman argues, should be read as explorations of the conflicted identities that shaped the lives of secular Jews in twentieth-century Europe and beyond. In French.
Sept. 26, 2017, 7pm
Art Exhibition
"Peintures, volumes, dessins":  Montparnasse artist Vincent Koch presents a retrospective of his paintings and drawings.
Sept. 29 – Oct. 27, 2017
---
OCTOBER
The Global: History and Effects
"Europe Facing Populism": This two-day, multidisciplinary conference will address the rise of "populism" in Europe. How is it defined? How has it gained its place in political discourse? How should Europe respond and what resources does it have? Participants will include among others: filmmaker Lucas Belvaux, who will present his film "Chez Nous"; John B. Judis, author of The Populist Explosion: How the Great Recession Transformed American and European Politics (Columbia Reports, 2016); Raquel Garrido, spokesperson for Jean-Luc Melenchon; islamologist and author Rachid Benzine; and Ukrainian activist and journalist Vasyl Cherepanyn. In English and French.
Oct. 2, 2017, 7:30-10:30pm. Screening of "Chez Nous" followed by a conversation  with director Lucas Belvaux and Emmanuel de Jonge.
Oct. 3, 2017, 9am-6pm. Conference: full program.
Critical Dialogues in Science, Medecine, Technology and Society
"Uprising 13/13 Paris Reading Group":  This reading group, which runs parallel to the New York seminar led by Columbia University Professors Bernard Harcourt and Jesús Velasco on the Columbia campus, will explore different forms of uprising in both theoretical and practical terms through the writings of a number of philosophers and critical thinkers of the nineteenth and twentieth century. The Paris reading group will be led by Florent Jakob, Daniele Lorenzini, Christine Valero, and Loren Wolfe, the group will meet twice during the fall. In English :
Oct. 5, 2017, 4:30-6:30pm, The Concept of Revolution, Karl Marx & Reinhart Koselleck
Nov. 16, 2017, 4:15-6:15pm, Civil Disobedience, Henry David Thoreau & Hannah Arendt
"Écriture de soi et résistance éthique (II)" :  This seminar, organized by the Collège International de Philosophie and led by Isabelle Galichon and Daniele Lorenzini, will explore the processes of "ordinary" resistance represented in and by "écriture de soi" such personal essays, journals, etc.  In French.
Oct. 5, 2017, 6:30-8:30pm, Georges Didi-Huberman (EHESS): Uprising
Oct. 12, 2017, 7-9pm, Frédéric Gros (Sciences Po): Disobedience
Nov. 16, 2017, 6:30-8:30pm, Toni Negri & Bernard Harcourt: Assembly and Counterrevolution
Books and authors
"Chicago School Sociology":  Professor Jean-Michel Chapoulie, Howard S. Becker, and Eric I. Schwartz, editorial director for Columbia University Press will discuss the history and legacy of The Chicago School, the foundation of the developing field of sociology for over 70 years. With La Tradition sociologique de Chicago Jean Michel Chapoulie introduced French readers to this rich and important history. Through Columbia University Press's Legacy Editions series, co-edited by Howard S. Becker, this history will soon be available to English speaking audiences. In English.
Oct. 16, 2017, 7-9pm
"Tunisia: An Arab Anomaly": Join professors Safwan M. Masri and Andrew Hussey for a discussion about Masri's new book, Tunisia: An Arab Anomaly, in which he explores the factors that have shaped the country's exceptional experience. Tracing Tunisia's history of reform in the realms of education, religion, and women's rights, Masri argues that the seeds for today's relatively liberal and democratic society were planted as far back as the middle of the nineteenth century and that Tunisia stands out not as a model that can be replicated in other Arab countries, but rather as an anomaly, as its history of reformism set it on a separate trajectory from the rest of the region. In English.
Oct. 17, 2017, 7pm
Encounters in Music, Film, Art, and Architecture
"Race, Gender, and Cinema":  Film director, writer and producer Euzhan Palcy will join historian Myriam Cottias for a conversation about her experience in the film industry. Palcy, who was named one of the "17 Women Who Revolutionized Hollywood" during the WRAP Women's Month, has undoubtedly had a huge impact through her films initiating humanitarian efforts globally for causes extremely important to her core values as a filmmaker and person.
Oct. 18, 2017, 6:30pm-8:30pm
Critical Dialogues in Science, Medecine, Technology and Society
"Medical narratives": This two-day colloquium focusing on illness as a biographical experience will explore the intersection medicine, literature and ethics. How can training in medical humanities prepare doctors, nurses and other caregivers the necessary interpersonal and communication skills to help patients through the personal experience of illness in all its complexity? In English and French.
Oct. 19, 2017, 9am-8pm. Université Paris-Est Créteil
Oct. 20, 2017, 9am-8pm. Columbia Global Centers | Paris
---
NOVEMBER
Columbia Sounds Concert Series
"Music and the Archives: Discovering Prokofiev":  This concert will initiate a yearlong commemoration by Columbia University of the 100th anniversary of Serge Prokofiev's American debut in New York City. Cynthia Liu, CC '18, will perform three piano works while archivist Natalia Ermolaev (GSAS '10) will complement the music with insights from the Serge Prokofiev Archive, housed at Columbia's Rare Books and Manuscript Library and supported by the Serge Prokofiev Foundation, the premier research source on Prokofiev's time in the West (1918-1936). In English.
Nov. 7, 2017, 8pm
Books and authors
"Antisemitism and Islamophobia in Europe: A Shared History?": Professors Ben Gidley (University of London) and James Renton (Edge Hill University, UK) present their latest work that examines the relationship between European antisemitism and Islamophobia from the Crusades until the twenty-first century. The volume brings together leading scholars in the emerging field of antisemitism-Islamophobia studies who work in a diverse range of disciplines: anthropology, history, sociology, critical theory, and literature. Together, they help us to understand a Europe in which Jews and Arabs were once called Semites, and today are widely thought to be on two different sides of the War on Terror. In English.
Nov. 10, 2017, 7pm
---
DECEMBER
Critical Dialogues in Science, Medecine, Technology and Society
 "Subjectivity and Revolution" : A day-long conference organized by Bernard Harcourt and Daniele Lorenzini coinciding with the Uprising 13/13 seminars. In English.
Dec. 19, 2017, 10am-5pm.