Santiago Center Publishes Book on Over 100 Years of Intellectual Exchange Between Chile & Columbia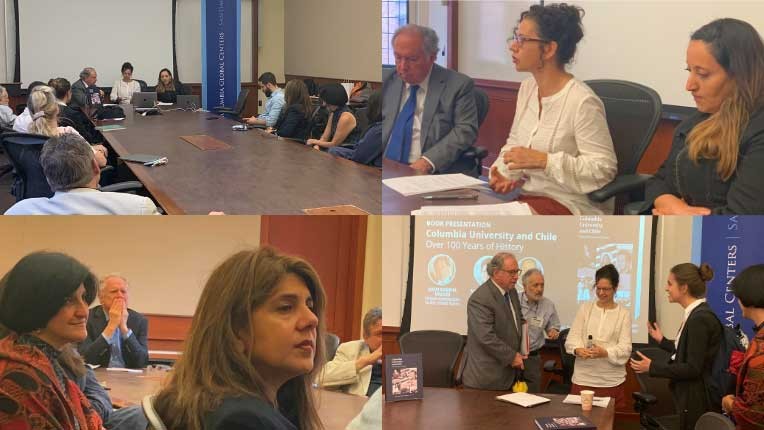 On September 22 in Russell Hall at Teachers College (TC), the Santiago Center launched "Columbia University and Chile: Over 100 Years of History," a book in which it invested over a year researching, compiling, writing and editing.
Over the years, recipients of various National Awards, the leaders of the Chilean suffragist movement, the country's first Nobel laureate, renowned engineers and doctors who have promoted life-changing public policies, leading astronomers, and Chile's very own "antipoet" have left their imprint both at Columbia and in Chile. The book delves into how this intellectual exchange has developed for over a century, reinforcing how invaluable the co-creation of knowledge across national borders can be.
"Since the first Chilean students that studied at Columbia came to Teachers College [in the early 1900s], it made sense to launch our book here," Carla Magri, chief editor of the book and a member of the Santiago Center, said during the on-campus event.
She gave an overview of the project, of how it stemmed from the Columbia Global Centers' Virtual Global Internship project, where some students did an initial part of research and wrote some chapters for the book, but when the Santiago Center found that the project was much bigger than originally expected, turned to other researchers for further help.
The focus was placed on four main areas: Chileans that studied at Columbia and had an impact upon their return to the country; Chilean scholars, scientists and artists that spent time at Columbia as faculty, researchers, visiting professors, and/or special guests; Columbia faculty members, researchers, scholars, and scientists that focused their work on Chile and/or that, as mentors or advisors, had an impact on Chileans that studied at Columbia; and Columbia's response and actions related to the Pinochet dictatorship (1973-1990).
Both Nara Milanich, Professor of History at Barnard College, and Juan Gabriel Valdés, Chilean Ambassador to the United States, commented on the publication during the launch.
"I think that the book makes abundantly clear that universities can serve as lively hubs of intercultural exchange and interaction for ideas and innovation," said Milanich. "It also makes clear that for more than 100 years, TC has served as a hub for the transnational circulation of educational ideas and practices… and in fomenting progressive ideas of pedagogy in Chile."
She highlighted the role that Columbia played in the Chilean suffragist movement. "This generation of Chilean feminists cut their teeth on notions of female political empowerment and inclusion while studying at TC. The book clearly shows that the most prominent Chilean feminists were TC alums… they were critical figures in Chilean political history in general."
In turn, Valdés noted that Columbia has been "a university that follows the development of Chile and participates in all these currents that have become so important in our lives, particularly the feminist movement."
He also highlighted Columbia's influence on Chilean public education. "I was very impressed reading about the role of [TC alumna] Amanda Labarca and other men and women at the time, Corina Vargas, Irma Salas, Oscar Vega," he said. "All of them belonged to the public education system in Chile, and the influence of Columbia in the creation and development of the public education system during the Radical government was essential to the definition of the country."
Commenting on other chapters in the book, he said that the close relationship that Columbia had with Chilean poets Gabriela Mistral and Nicanor Parra was "remarkable in terms of the types of relationships the university established with the country," as well as astronomy, "which is a very unique characteristic to Chile in terms of how we've developed astronomical observatories in the north."
He also spoke of his own time as a graduate student in the US, when along with Chilean activists Enrique Kirberg, Orlando Letelier and Giorgio Solimano, they campaigned against the Pinochet regime at the United Nations, which led to the formation of the organization Chile Democrático and influenced human rights commissions.
The 270-page book features eight chapters:
Gabriela Mistral: Poetess in New York
Enrique Kirberg: A Chilean Political Exile at Columbia
Mapping our Galaxy: An Astronomical Collaboration between Columbia University and Chile
The Legacy of Teachers College in Chile's Educational Development
Juan Asenjo, Pedro Pablo Rosso, Giorgio Solimano: Three Eminent Chileans that Left their Mark at Columbia
The Chilean Suffragist Movement: The Decisive Influence of Columbia's Teachers College
Nicanor Parra: Unlikely, Unconventional, Antipoet
Chilean Presidents at Columbia: A History of Diplomacy and Democracy
The book can be downloaded at this link.