Sonia Goldenberg receives Journalism School's 2023 Alumni Award
Peruvian journalist Sonia Goldenberg (JRN'80) is a documentary filmmaker and is also a columnist at The New York Times.
January 31, 2023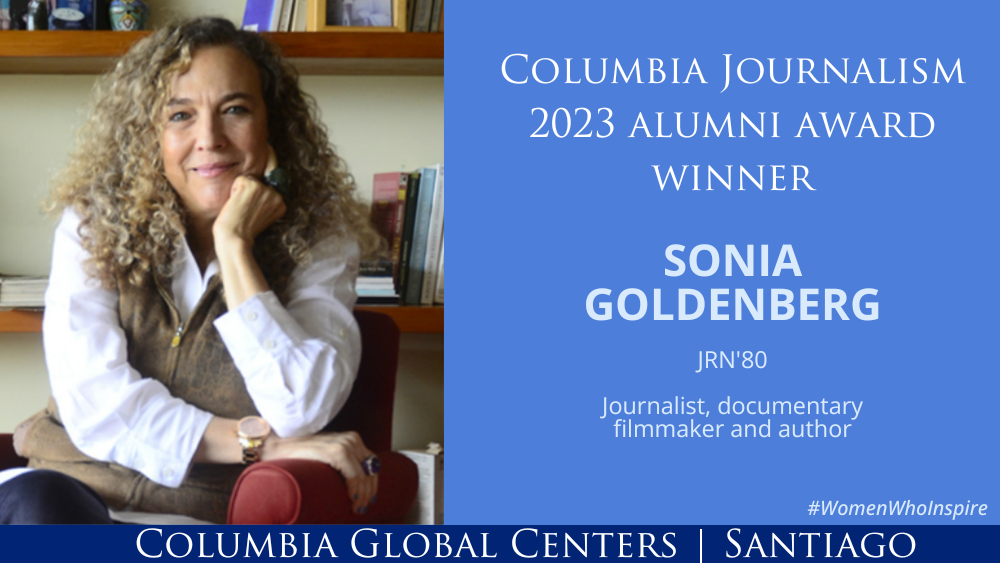 Columbia Journalism School's Office of Alumni and Development has named the Peruvian journalist Sonia Goldenberg (JRN'80), documentary filmmaker and columnist at The New York Times, as one of the recipients of its 2023 Alumni Awards.
Goldenberg was recognized in 2022 by Columbia Global Centers | Santiago as one of the "women who inspire." The acknowledgement, performed yearly in the context of International Women's Day, has highlighted noteworthy Columbia alumnae for their professional development and contribution to society.
"The recognition last year by the Santiago Center led others to take interest in my career development. My classmates nominated me as a candidate, and I am very grateful for this award! I also very much appreciate the Santiago Center, and especially [deceased Santiago Center director] Karen Poniachik, a dear friend from the early stages of our professional development, for calling attention to my career achievements," Goldenberg said. "Karen was amazing, hardworking, talented and a very generous human being. I am so saddened by her passing."
Goldenberg is a distinguished Peruvian journalist and documentary filmmaker. In 1983 she received a national award for her reporting on atrocities committed in the early 1980s by the Shining Path terrorist group as well as human rights abuses by the Peruvian military. In 1984, she became the first female journalist to anchor and direct a program on primetime television in Peru.
Other jobs Goldenberg performed include having been an international correspondent for Univision News, executive director of the New York-based Committee to Protect Journalists, United Nations observer in Haiti to monitor attacks against journalists after the 1993 coup against President Jean Baptiste Aristide, and information officer for Unicef in Haiti and for the Office of the Spokesman for the Secretary General and the United Nations Development Program in New York.
For the last 20 years, she has produced and directed a series of groundbreaking and award-winning documentaries, including "Memories of Paradise," a documentary on political violence and drug trafficking in Peru, and the film "Following Kina," which won Best Foreign Documentary in 2016 from Female Eye Film Festival in Toronto and the Artistic Vision Award from Big Sky Film Festival in Montana.
She has penned two books, "Decidamos el Futuro" (1985) and "Reportaje al Perú Anónimo" (1989), co-authored "El Código García" (2021), and edited "Love and Power in the XX Century" (2009).
The 2023 Alumni Award winners were selected by a panel of jurors comprised of previous Alumni Award winners and a representative of the Alumni Board.
"I'm excited to honor this amazing group of alumni," said Journalism School Dean Jelani Cobb. "They represent the very best of the Columbia Journalism School tradition of high-caliber ethical journalism and the public interest."
Other winners include Shuja Nawaz (JRN'73), founding director and current distinguished fellow at the Atlantic Council's South Asia Center; Eugenia Harvey (JRN'83), chief diversity, equity and inclusion officer and executive producer at WNET; Charles Sennott (JRN'86), founder and editor-in-chief of The GroundTruth Project; and Gina Chua (JRN'88), executive editor at Semafor.
Meanwhile, Valerie Hopkins (JRN'13), Moscow correspondent at The New York Times covering Russia and the war in Ukraine, was named the winner of the First Decade Award, for graduates within the last 10 years. Anika C. Navaroli (JRN'13) received the Courage award for her bravery as a whistleblower at Twitter.
The 2023 awards will be presented in April during the Journalism School's Alumni Weekend.