Image Carousel with 3 slides
A carousel is a rotating set of images. Use the previous and next buttons to change the displayed slide
Slide 1: Education

Slide 2: Parsi Exhibition

Slide 3: Katherine Alfredo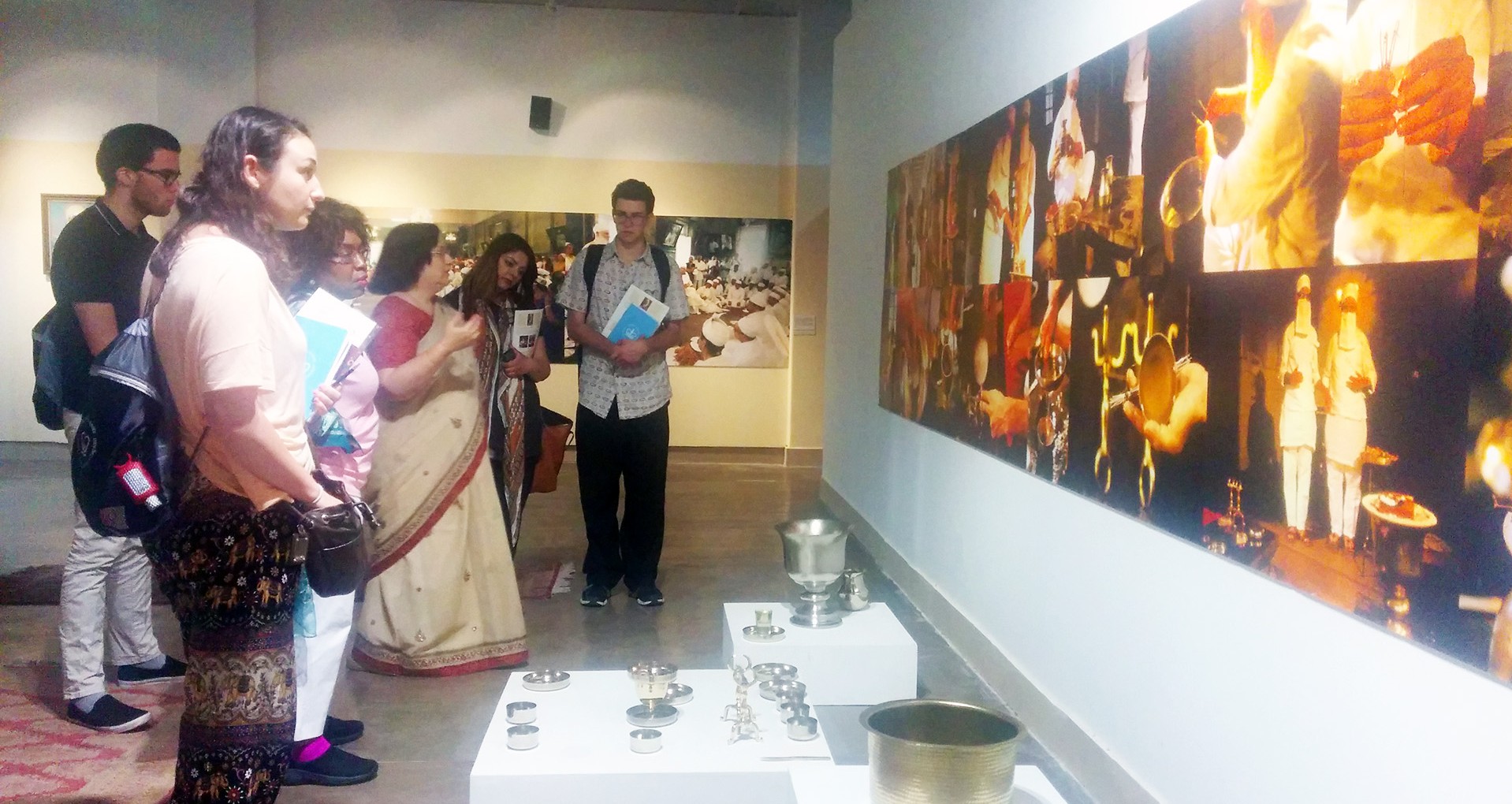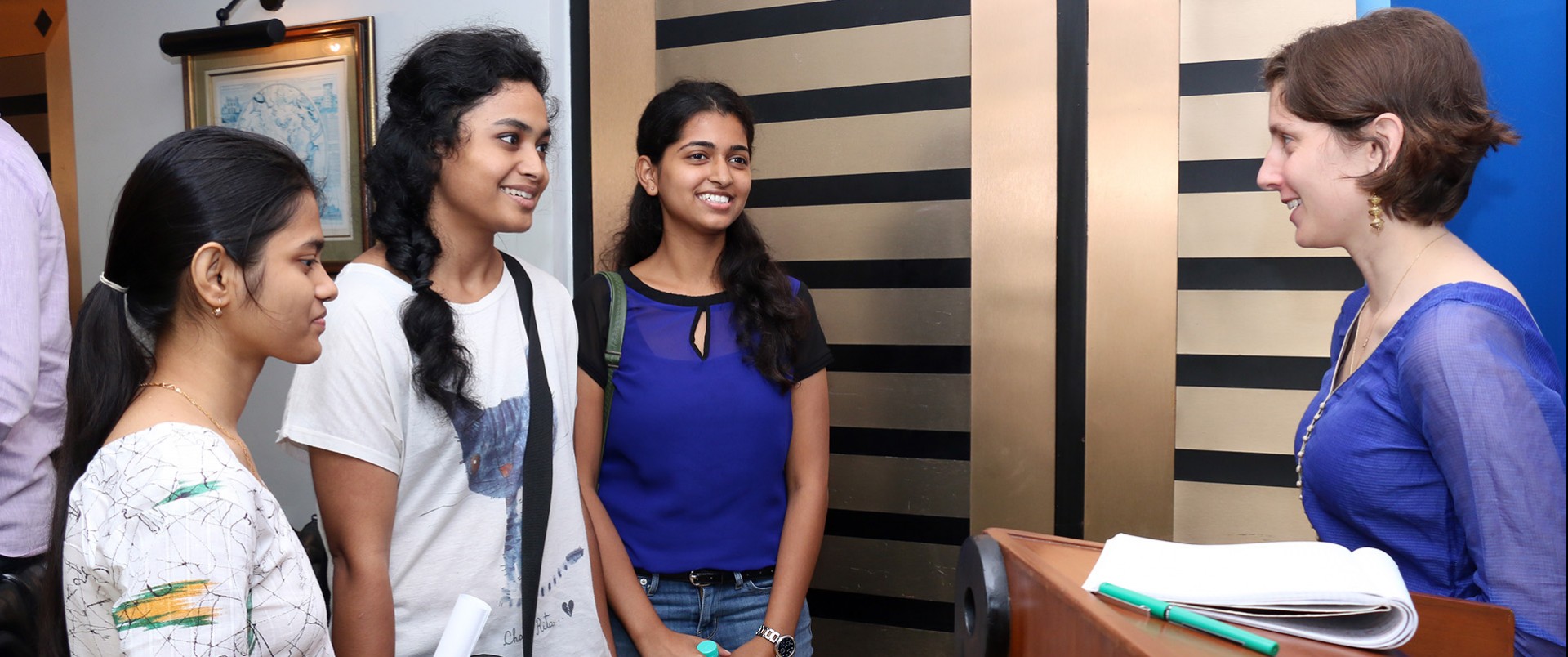 Previous
Next
Education Programs
The Mumbai Center promotes knowledge exchange through a set of academic programs and internships to enable students to immerse themselves in the culture and life of India, learn with regional experts and peers, and gain a practical insight into the global. We offer excellent opportunities for strengthening Columbia University's global learning mission through courses, studios and field trips, internships, and graduate student placement opportunities. We also aim to develop programs on professional/executive education for executives, government officers, and development professionals in the region.
Columbia Global Centers in Mumbai and Beijing facilitated an intensive six-week summer program on Media Practices in India and China, with students spending three weeks in each country. It is organized as part of the Global Scholars Program (GSP) in collaboration with the Weatherhead East Asian institute and the Office of Global Programs at Columbia University. Unlike traditional study abroad programs, GSP builds on the expertise, resources, and cross-regional networks offered by the Columbia Global Centers, which enables students to delve deeper into the areas of their interests and conduct research across borders.
Together with the Mailman School of Public Health, the Mumbai Center facilitates a summer practicum that enables graduate students to complete a planned, supervised and evaluated field experience in India. Student interns have so far been placed at Society for Nutrition, Education, and Health Action, a secular, non-profit organization that works on public health issues in Mumbai's slums, Khushi Baby in Udaipur, a wearable mHealth platform that aims to reduce mortality due to vaccine-preventable diseases, and Partners for Urban Knowledge, Action and Research, an independent and participatory research collective based in Mumbai.
As globalization increases, international cultural exposure and work experiences become important to successfully navigating and meeting the demands of a changing work environment. Since 2013, the Mumbai Center has been hosting the Columbia Experience Overseas program that offers undergraduate students a high quality internship experience in a diverse array of industries and organizations through alumni and employer partnerships. Students spend eight weeks between June and August interning with leading for-profit and non-profit organizations in Mumbai, including Barclay's Bank India, AZB & Partners, Marg Foundation, Jaico Publishing House, Asia Society India Centre, Apne Aap Women's Collective, Spencer Stuart and Mumbai Mobile Creches.
As the world's largest democracy, India presents a unique opportunity to understand a long and multifaceted heritage of religious diversity. With this reality in mind, the Mumbai Center hosted Columbia University Chaplain, Jewelnel Davis, and nine Kraft  Global Fellows - four in 2016 and five in 2017 - for an  intensive field study on Religious Pluralism in India. Through visits to important sacred sites and exhibitions, and interactions with experts, the team learned about the history, practices and contemporary issues related to different religions in India and explored the relationship between religious communities.
July 01, 2020
The network of nine Columbia Global Centers launched a Virtual Internship Program with over 150 opportunities in a host of partner organizations around the world to support meaningful internship experiences for Columbia students over the summer who had seen diminished opportunities due to the disruptions caused by COVID-19.
June 29, 2020
The historic city of Vrindavan is undergoing rapid transformation. Perspectives on this changing landscape of extreme religious and environmental significance were provided in a public lecture by Barnard Professor John Stratton Hawley who has spent over forty years visiting and doing academic work in Vrindavan. 
January 13, 2020
Columbia University is pleased to offer the following scholarship opportunities across disciplines for prospective students from India. Please contact the program directly for more information. 
Related Events
There are no events to show with the selected date.
There are no events to show.
See current events