Book Talk - Barbary Captives by Mario Klarer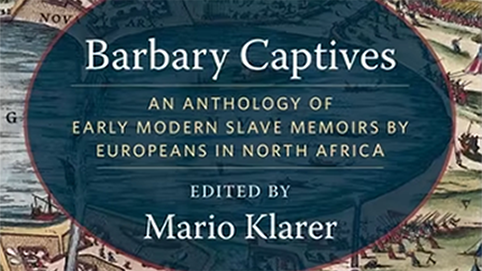 On Friday, January 6, 2023, CGC Tunis held an online book event on Zoom with Prof. Mario Klarer for a discussion about his latest book: "Barbary Captives - An Anthology of Early Modern Slave Memoirs by Europeans in North Africa", published by Columbia University Press.
The book talk was moderated by Dr. Adnen el Ghali, Architect, urban planner, and researcher on Diplomatic History.
"Not enough heard or even known, the voice of the captives constitutes the missing and under-researched part of the historiography of the course in the Mediterranean.
Here resides the main interest of Pr. Mario Klarer' work. The anthology brings together English translations of a selection of Barbary captivity narratives from nine different European regions and languages from the sixteenth century to the early nineteenth century, thirteen texts in total bearing witness to different facets of captivity in the so-called 'States of Barbary' – Tunis, Algiers, Tripoli and the Sultanate of Morocco – representing the major settings of Barbary corsairing and slavery. Abducted by corsairs, these captives, both male and female, were sold on the slave market of North African major cities. If some of them were domestic servants, fishermen, farmers, merchants, officials, priests, others converted and reached important positions in the Court even the highest one like Tunisian ruler and founder of the Mouraidte Dynasty,  Osta Moratto Bey, born Giacomo Santi. There is nothing comparable in Western Europe!
These texts reflect the ways in which Europeans fell into captivity from the capture of vessels and naval combat to land raids like in Iceland and give us valuable testimonies on life in captivity and some of its less well-known aspects such as the intercultural agent function performed by the captives." - Adnen EL Ghali
 
About the book:
Barbary Captives brings together a selection of early modern slave narratives in English translation for the first time. It features accounts written by men and women across three centuries and in nine different languages that recount the experience of capture and servitude in North Africa. These texts tell the stories of Christian pirates, Christian rowers on Muslim galleys, house slaves in the palaces of rulers, domestic servants, agricultural slaves, renegades, and social climbers in captivity. They also depict liberation through ransom, escape, or religious conversion. This book sheds new light on the social history of Mediterranean slavery and piracy, early modern concepts of unfree labor, and the evolution of the Barbary captivity narrative as a literary and historical genre.
Mario Klarer is a University Professor of American Literary and Cultural Studies at the Department of American Studies at the University of Innsbruck. He is the editor of Mediterranean Slavery and World Literature: Captivity Genres from Cervantes to Rousseau (2020), among many other books.
His publications focus on utopian literature and discovery reports, literature and the visual arts, Mediterranean piracy and slavery, as well as medieval brain anatomy. He was chair of the English Department at the University of Neuchâtel and the American Studies Department at the University of Innsbruck, visiting professor at the University of Pennsylvania and Columbia University, as well as the president of the Austrian Association of American Studies. His grants and fellowships include a Schrödinger Fellowship at the Getty Center, a Rockefeller Fellowship at the National Humanities Center, an APART Grant from the Austrian Academy of Sciences, as well as Humboldt and ACLS Fellowships.
Mario Klarer received four four-year Austrian Science Fund projects, a three-year go!digital 2.0 project of the Austrian Academy of Sciences, and a two-year Sparkling Science project of the Austrian Federal Ministry of Education, Science and Research. He has curated two large museum exhibitions, one for the 350th anniversary of the founding of the University of Innsbruck and the other for the 500th anniversary of Emperor Maximilian's death. In recent years, Mario Klarer focused on editorial projects, including his eleven-volume edition of the Ambraser Heldenbuch (De Gruyter 2022), primary text anthologies of European Barbary captivity narratives (Columbia University Press 2022) as well as Ottoman narratives of piracy and captivity (University of California Press 2024), and the evolving Latin edition and English translation of Francesco Pipino's version of Marco Polo's Il Milione, which is part of his Austria Science Fund project "The Marco Polo of Christopher Columbus" (2022-2025).